ChiO

(Japanese: チオ (ChiO))

NAME INTERPRETATION:

None

TYPE: Chimera
GENDER
genderless (but looks like a girl)
VOICE RANGE
A#3~F5
RELATED CHARACTERS

None

AGE

387 years old (but she look like a girl of 15 years old)

GENRE
????
HOMEPAGE
????
WEIGHT
47 kg
CHARACTER ITEM

Chimera 

CREATOR
Neko Ríos
HEIGHT
1,62 m
VOICE SOURCE
Giselle R.
PICTURE LINK LIST
DeviantArt
BIRTHDAY
15 July
LIKES

The affection, candys, warm milk, etc.

MEDIA LIST YOUTUBE
RELEASE DATE
09th September 2013
DISLIKES
She hate when the people will touch her tail!
SIGNATURE SONG
Raspberry*Monster
PERSONALITY: ChiO is.... ChiO (?)
Suplement Infromation
Hair color: Light blue.
Eye color: Brown.
Earphones: She don't have earphone
Nationality/Race: Mexican/German.
Artwork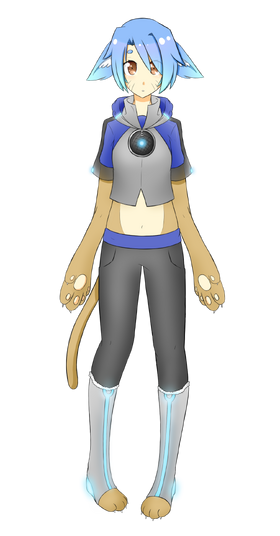 Voice Configuration
ChiO is designed for Japanese language.
TECHNICAL INFORMATION

ChiO (VCV)
ARCHIVE FILENAME
ChiO VCV.zip
ARCHIVE FILESIZE
132.6MB
DATE RELEASED
September 09th 2013
NO. OF VOICE PHONEMES
Files: 212 voices: 2207
TOTAL UNCOMPRESSED SIZE
147,872,844 bytes
PHONEME ENCODING
Romaji with hiragana and romaji alias
AVERAGE FREQUENCY
357.3 Hz (F4)
FRQ FILE PRESENCE
YES
LANGUAGES SUPPORTED
Japanese
UNOFFICIAL SUPPORTED LANGUAGES
NONE
OTO.INI PRESENCE
YES
TUNED OTO.INI
YES
LANGUAGE PARSED VIA OTO.INI
Japanese
VOICEBANK AUTHOR
Neko Rios
TECHNICAL DIRECTOR
Neko Rios
RECORDING SOFTWARE USED
Audacity
RESAMPLER
Fresamp14
FLAGS
Y0H0g+6
DOWNLOAD LINK: Download

SPECIAL NOTES: It's a VCV. The quality of the voicebank is acceptable.
- ChiO W h i s p e r  Demo
Ad blocker interference detected!
Wikia is a free-to-use site that makes money from advertising. We have a modified experience for viewers using ad blockers

Wikia is not accessible if you've made further modifications. Remove the custom ad blocker rule(s) and the page will load as expected.