Chi Suzuki

(Japanese: スズキ 血)

TYPE: UTAU
GENDER
Female
VOICE RANGE
A3~F5
RELATED CHARACTERS

Usagi Suzuki - Brother

AGE

16
GENRE
Any
HOMEPAGE
Youtube (for now maybe...?)
WEIGHT
 ----
CHARACTER ITEM
Speakers
CREATOR
Silly Utau
HEIGHT / MEASUREMENTS
160cm
VOICE SOURCE
Silly Utau
PICTURE LINK LIST
My Deviant Art
BIRTHDAY
Januray 13
LIKES

Strawberry Rice Cakes

Playing Games

Asking Questions

Carnivals or Amusement parks

MEDIA LIST
Youtube
RELEASE DATE
April 24, 2015
DISLIKES

Geese

SIGNATURE SONG
None (yet)
PERSONALITY: Chi Suzuki is a curious bipolar robot. She often asks questions about anything and everything. She also is naive and tends to act younger then she really is and is super hyper. If someone gets on Chi's nerves or get's on her bad side she will quickly turn into her sadistic persona
Supplemental Information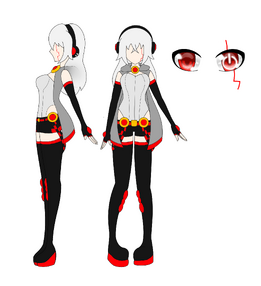 Hair color
: Grey/Silver/White
Eye color: Red, left eye has a white power button
Clothing: In image shown
Nationality/Race: Unknown
Voice Banks
CV:http://www.mediafire.com/download/bzdv45dewvm5kd0/Chi+suzuki.zip
Terms of Use:
1) Do not use these voicebanks for commercial use without getting permission from the creator.
2) Do not redistrubute or edit the voicebank in any way, shape, or form.
3) You don't need permission to draw fanart, use her in fanfiction, manga, fancomics, etc. I would love to see them!
4)You don't need permission to use her for a song/You don't need permission to make her an original song. If you do any of those though, I'd LOVE to see it too (obviously)!
5) Please don't RP her without her creator's permission.
Ad blocker interference detected!
Wikia is a free-to-use site that makes money from advertising. We have a modified experience for viewers using ad blockers

Wikia is not accessible if you've made further modifications. Remove the custom ad blocker rule(s) and the page will load as expected.