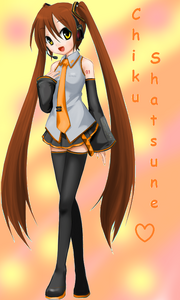 '
Chiku Shatsune'
(ital.: ciku sciatsune; ger.: tschikü schatsüne)
VOICE RANGE

Unknown
GENDER Female
AGE

14
WEIGHT

32 kg
CHARACTER ITEM

chocolate

CREATOR

NamiChaan
HEIGHT / MEASUREMENTS

152 cm

VOICE SOURCE

NamiChaan

BIRTHDAY

21. December

LIKES kawaii things, be annoying to other people
DISLIKES mean people
MEDIA LIST

YouTube
FIRST SONG Silent Night (Japanese)
LANGUAGES japanese, english, german, italian

03:57

Chiku Shatsune - Love is war Kore wa sensou

PERSONALITY
Chiku is very active and she loves to get to someone's nerves. She is very naughty, cheeky and has always ideas and unhappily also nonsense in her head. Chiku can't speak very well with boys. If any cute boy is in her near, she begins to make stupid things, like poking him, because of her nervousness. Everyone hides the chocolate, when she is in the near. If she would eat the chocolate, she would be the most anoying thing on this earth and nobody wants to become her something like that.
Ad blocker interference detected!
Wikia is a free-to-use site that makes money from advertising. We have a modified experience for viewers using ad blockers

Wikia is not accessible if you've made further modifications. Remove the custom ad blocker rule(s) and the page will load as expected.