GENDER-Female

AGE-13-Years-old
BIRTHDAY-August 8

VOICEBANKS-

DISLIKES- bad food, pervs, mean people,

ITEM-Frying pan
KIND-"made of cloth"
SIGNATURE SONG

-Would You Marry Me?

LIKES-fruits and vegertables, cooking, baking, deserts, food, etc.

RELEASED-

Feb 2014
HAIR COLOR-short light blonde
EYE COLOR-dark red orange;the color of flames at midnight
SHIRT-butler's uniform;bright green collar, black vest, long bright red tie,white undershirt
PANTS-black dress pants
SHOES-black dress shoes
EXTRAS-nothing more
Personality
Climber is very nice, funny, and loves to cook! He's also made of cloth/tissue/paper towel whatever you want to call it.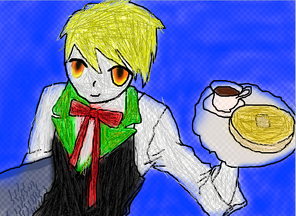 Climber is Roxy's lover, and would do anything for her. He is also best friends with Kayumi Nemoyo and Murphi.
Climber is also brave and has high self esteem, and often acts happy go lucky just to make others angry. It doesn't annoy Roxy though. He, also cannot stand the smell of smoke or the sound of whistling.
Links