==                                                COROME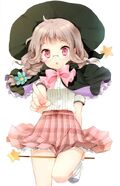 ==

  TYPE: UTAU
MODEL: NONE
GENDER Female
RELATED CHARACTERS ; Cater speak (leader of the gang, sweet tough) kaszna end (her screte friend)
AGE  19 
WEIGHT 129 lbs (58 kg)
CHARACTER ITEM: poker cards(she hits people with it and slices them)
CREATOR Manami Riko
HEIGHT 5'9" (175 cm)
VOICE SOURCE Manami Riko
BIRTHDAY feb 2
LIKES Cooking, reading, playing cards and winning, killing 
DISLIKES loud noices,crying,love,her card (joker) 
PERSONALITY:she is crafty and loves to tell stories that her end told her about. she hates the card she used to have it"s called the joker she senses that the card is bad luck for her though it's not.she is part of the gang sweet tough.
Ad blocker interference detected!
Wikia is a free-to-use site that makes money from advertising. We have a modified experience for viewers using ad blockers

Wikia is not accessible if you've made further modifications. Remove the custom ad blocker rule(s) and the page will load as expected.