Cross is a UTAU too serious and expressionless, with the only one with the speaker is with your partner or your master, try to talk and get an answer is almost impossible
As well as design NEVER changed, if serious only changed by its author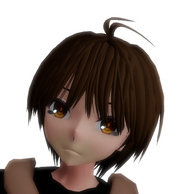 The author believes that change every time the character design ara she starts him on values ​​much
and "blankness" is a "personal touch" of the author, and she is way too inexpressive
the author just thinks that blankness is "mysterious"
besides having some fangirls who think it's "sexy"
so it is normal that the author thinks is awful Cross
Gender
Male
Voice Range
D#3 / A#4
romantic relationships
the "fanmade" Kaito "Akaito"
Age
14 but looks 17

GENRE

Male
Homepage

Weight

unknown
Item
Snow or Chocolate
Creator
DM

Heigt

Measurements

unknown
Voice Soucre
DM
picture link list
Birthdar
May 6
Likes
chocolate, video games, music
Media list
NO
Release date
May 6
Dislikes
the girls (especially bossy), and the fujoshis fundashis and babies

Signature song
INFO
Cross bezarius or in Japanese "クロスBezarius" (because the word "Bezarius" has no translation), UTAU is a male with brown hair and brown eyes
created by an author named "DM"
or better known as "Estef", "kuroneko-shion ", "Master" or "DMasterloid"

page of the author is only in Spanish or Italian
and the URL is: http://mcdm.metroblog.com/
and here is when "national" Cross: http://mcdm.metroblog.com/bezarius_project
Cross belongs to a list of UTAUs called "The Bezarius Project", the 01 is the project currently has a voicebank Cross whisper (even without demo), also has a series of "brothers" of the project are not nothing recognized and who have not yet come to light, and Cross was recognized only in the project. 
Including its author even think that is a fault in the system UTAU, which it is not. 
Since Cross came to have little fame in 2013 

Even his name is a mixture of "Cross Marian" (D Gray Man) 
And "Oz Bezarius" (Pandora Hearts) 
But none of these characters are familiar
Downloads
VoiceBanks for Download:
V3 -> VoiceBank
Vocals Magnetic V1 -> VoiceBank
MACloid -> VoiceBank
Electryc System -> VoiceBank
---
Facts:
Cross was born on May 13, in the little-known project "Bezarius Project "
Cross is very serious, if one of the "masters" of NicoNicoVideo does mention more, you will receive a strong rebuke from the author
on the topic of "homosexuality", he is the "uke" of the relationship
admires the Spanish youtuber called "elrubiusOMG"
Cross speaks 3 different languages: the original language (Italian), Spanish and Japanese
not support the girls too sweet, bossy and busty
Does not support the girls. 
It's the first virtual IDOL from Italia
It's a VOCALOID
FULL BODY MODEL
Ad blocker interference detected!
Wikia is a free-to-use site that makes money from advertising. We have a modified experience for viewers using ad blockers

Wikia is not accessible if you've made further modifications. Remove the custom ad blocker rule(s) and the page will load as expected.