Ad blocker interference detected!
Wikia is a free-to-use site that makes money from advertising. We have a modified experience for viewers using ad blockers

Wikia is not accessible if you've made further modifications. Remove the custom ad blocker rule(s) and the page will load as expected.
What Is the Cyber Pets?
The Cyber Pets is a UTAUloid group created by AbigailWK. It got it start after the creator had made Hana Megumi. AbigailWK had gotten the idea to make more animal themed UTAUloids. So she started to make different designs.
 Who is in charge of the Cyber Pets?
AbigailWK
Deviantart: http://abigailwk.deviantart.com/
Youtube: http://www.youtube.com/channel/UCOHnQt6E8IyPfDl21w5-d_Q
Planned UTAUloids
Sho Family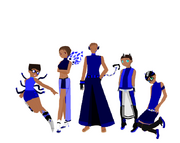 Nayuri family