Cyrus Yamamoto
Talk

0
4,262pages on
this wiki
 
 

CYRUS YAMAMOTO


(Japanese: 最ラス 山本 - Cyrus Yamamoto)

NAME INTERPRETATION:
Cyrus - Greek interpretation of "lord"


Yamamoto - Common Japanese surname, meaning "base of the mountain"

TYPE: Yamaloid/CCloid
MODEL: X/CCL1
GENDER
Male
VOICE RANGE
G3-G6
RELATED CHARACTERS

Akiko Yamamoto - Older Sister


Any Windows100% UTAU (Mainly Akeko) - Idol


Ka-chan loid - (Unofficial) Mom in-law

Kori Kazan - Friend

AGE
12
GENRE
adaptable to many genres, mainly for peaceful and creepy/scary songs.
HOMEPAGE
None
WEIGHT
96.7 lbs.
CHARACTER ITEM
Red Hood
CREATOR
HEIGHT / MEASUREMENTS
5'6"
VOICE SOURCE
Undisclosed, due to being a minor.
PICTURE LINK LIST
deviantART
BIRTHDAY
January 2, 2001
LIKES
sweet foods, video games, revenge, math, Windows100% UTAUs.
MEDIA LIST
YouTube
RELEASE DATE
TBA
DISLIKES
Bullying and Bullies and Judgemental people
SIGNATURE SONG
TBA

PERSONALITY: Cyrus is really girly and strangely tall for his age. He can be serious or he can be random, based on his vibe.


Whenever Cyrus sings a song with and sort of creepy/disgusting lyrics, he sings them mindlessly, uploads them to YouTube, finds out the lyrics, sleeps that night disowning himself.
Supplemental Information
Edit
Cyrus's drawing was drawn by AdoptErrors on deviantART. Ethan adopted him.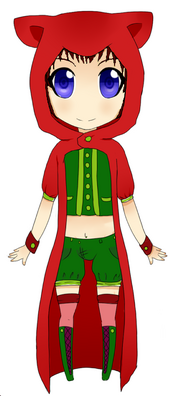 Nationality/Race: Japanese-American
Hair: Chocolate Brown
Pants: Green with light green as secondary color
Shirt: Ditto
Extras: Red hood, red/light red high socks, red shirt cuffs,
Eyes: Dark blue with light purple highlights
Shoes: Green shoes with maroon laces
Voice Configuration
Edit
Cyrus is a private voicebank. The only way you are able to obtain him is if you contact the creator on Skype and ask if you can have his voicebank.
Skype: eman.person3
Usage Clause
Edit
Roleplay and Fanworks
Pitchloids or other edited fancharacters created from Cyrus's voicebank OUTSIDE of using the UTAU software are strictly forbidden.
Commerical Use
Cyrus Yamamoto's voicebank may NOT be used commercially in any way, shape or form. Please contact Emandude03 on YouTube to discuss and obtain permission for commercial use.
Political/Religious Content
Cyrus Yamamoto's voicebank may NOT be used for specifically spreading a political or religious message. However, traditional anthems, choruses and chants are perfectly acceptable.
Mature/Obscene Content
Cyrus Yamamoto's voicebank may NOT be used in productions of "Wash my Blood," "Shooting-Star Technica" or any song that has similarly extremely explicit/controversial lyrics without permission. In the future, an optional voice configuration and character avatar for an OLDER version of Cyrus may be created and able to be used for such productions.
Cyrus Yamamoto also CANNOT be drawn/depicted in any other way in pornographic situations. He is a 11 year old character and thereby underage.'