DMO


     (Japanese: デモ - DMO)                                  
English, DMO Japanese, DMO
デモ (demo)
TYPE: UTAUloid
MODEL:
GENDER
Female
VOICE RANGE
Unknown
RELATED CHARACTERS
AGE
20
GENRE
pop, techno, classic
HOMEPAGE
Ryu Drakita
WEIGHT
 

220 lbs (100 kg)

CHARACTER ITEM
 Umbrella
CREATOR
HEIGHT / MEASUREMENTS

5,4 ft

(167 cm

VOICE SOURCE
Faketsuki
PICTURE LINK LIST
DEVIANT ART
BIRTHDAY
April 20, 1993
LIKES
computers, books, observing, learn.
MEDIA LIST
NICO NICO DOUGA, YOUTUBE
RELEASE DATE
 October 24, 2013
DISLIKES
getting wet, thunder, called outdated.
SIGNATURE SONG
Wanderlast

PERSONALITY: This is a female robot, a prototype as a android diva. which is why she was named DMO, short for "demo" as a prototype for an digital idol. Even as she is an prototype, she is programed to sing. and nothing will stop her to get up the road as a android diva. she rarely shows any emotion, but she was programed to have less emotions then usual android divas. but she somehow get up small fragments of emotions. will these feelings blossom?
Character Design
Hair color: pourple, transparent, plastic hair
Eye color: blue, shining pink
Earphones: Headphones with microphone
Dress: Simple and basic clothing, with music volume controll to her right arm.
Nationality/Race: Norwegian
Voice Configuration
Character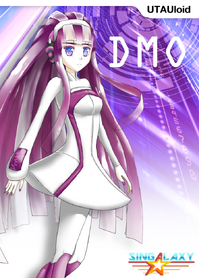 Ad blocker interference detected!
Wikia is a free-to-use site that makes money from advertising. We have a modified experience for viewers using ad blockers

Wikia is not accessible if you've made further modifications. Remove the custom ad blocker rule(s) and the page will load as expected.