Daisy Hapyon
Daisy = In honour of Daisy Bell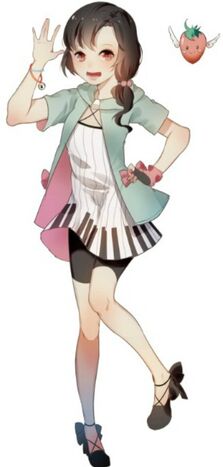 Hapyon = Probably from Happy Synthesizer 
Daisy's profile
Name: Daisy Hapyon (ハピ音デイジー – はぴおん・でいじー) Age: 16 Gender: Female
Nationality: Italian Height: 168cm Weight: 59kg
Voice provider: Envy (Eririn)
Things she loves: Everything VOCALOID/UTAU/synthesizer related. Things she hates:  Being scolded by Paffugo (her little angel-winged strawberry, her companion and mascot).
Daisy can be depicted as a cheerful and light hearted girl who sometimes is too naive. She really loves every vocal synthesizer on Earth and she does her best to share news about her beloved synthesizers with as many people as possible. Inspired by her favourite VOCALOID's success, Daisy started practicing to be a good singer, and she manages a synthesizers fanclub in her spare time. She's a friendly and easy-going girl and she calls everyone her friend (and master, if they use her on UTAU)
About Daisy
At the moment, Daisy is a Japanese UTAU voicebank as well as a mascot for both Happy Synthesizer and VNN. Daisy will act as the face of VNN's Italian version!
Daisy has three official illustrations: two by Azumibird and one by VNN's artist WeiTu. All are free to use with credit alongside any content featuring Daisy and are included in her download.
As for Daisy herself, she has a page dedicated to her here (http://www.vocaloidnews.net/who-is-daisy-hapyon/) . You can find all the information on Daisy there as well as download links and demos and the terms of use.
Demo Videos
Cover of A Lie And A Stuffed Animal: https://www.youtube.com/watch?v=oxKLwwjC8Ac
Cover of Reversible Campaign: https://www.youtube.com/watch?v=X-cQBOImcsM
Voice Configuration
Daisy Hapyon is a CV voicebank.
You can download her voicebank here: http://www.vocaloidnews.net/who-is-daisy-hapyon/
As you may have guessed, Daisy is a free to use UTAU voicebank! Dorellymimi made her to be very beginner friendly. So even if you're just starting out, Daisy is easily accessible to you!
She is a CV voicebank but has tons of extra samples to help her pronounce difficult words.
Usage Rules
As you could expect, Daisy comes with some rules:
Daisy Hapyon belongs to VNN and Happy Synthesizer, do not claim parts of her voicebank and/or design as yours.
Do not pitch or edit her voicebank and redistribute it.
Do not use Daisy for commercial purpose without permission from Happy Synthesizer and VNN.
Don't claim her voicebank or design to be some other UTAU other than hers.
If you follow these simple rules, you can just go ahead and use her! You don't want Paffugo to scold you too, right?