Nakamura Daseki


( Japanese: 

中村 

だせき)

NAME INTERPRETATION:
Nakamura  (中村): Middle Village. 
Daseki (だせき); bat, his creator loves bats so he named his first UTAUloid Daseki.

TYPE: UTAULOID (Japanese)


GENDER
Male 
VOICE RANGE

C3~D5

RELATED CHARACTERS

N/A

(Plans to add)

AGE

18

GENRE
Any
HOMEPAGE

N/A

WEIGHT
53 kg
CHARACTER ITEM
Pocket Watch
CREATOR

Ivan Mateo

HEIGHT / MEASUREMENTS
168 cm
VOICE SOURCE
Ivan Mateo 
BIRTHDAY
June 5
LIKES
Blood Oranges, MMORPGs, Video Games, Books
MEDIA LIST
SoundCloud

RELEASE DATE
Rebirth VB - 2014/01/06
DISLIKES
Noisy People, overly-sweet things, too much heat/cold, 
SIGNATURE SONG
N/A
PERSONALITY: Daseki is usually quiet, but his presence is easily felt. He doesn't particularly like talking to others, there are some though who push him enough to talk. His sharp tongue and aggressive demeanor make others think he is rude but he's just being honest. 
Character Design
Hair color: 
Black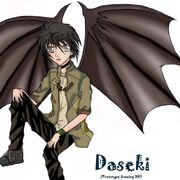 Eye color: Gray
Height: 168cm 
Weight: 53kg His wings disappear from time to time, he doesn't know how or why they do. 
Voice Configuration
His Voicebank is encoded in romaji with hiragana aliases. 

CV Voicebank: download
Recommended resampler : default resampler
Flags : Y50BRE0H20C10
Genderbend
Sekiko Nakamura use a g-20 flag and move the octave into the 'female' range.
Usage Clause
Please credit me if you use this voicebank. 
The .txt in his folder is still under work. (it's not there yet orz)
Ad blocker interference detected!
Wikia is a free-to-use site that makes money from advertising. We have a modified experience for viewers using ad blockers

Wikia is not accessible if you've made further modifications. Remove the custom ad blocker rule(s) and the page will load as expected.