Mao Shinju
---
Es una UTAUloid Kandere Mitad Humana Mitad Demonio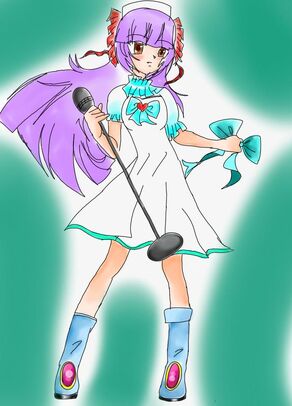 Personalidad y Atributos
---
Su personalidad es Kandere, tiene una conducta muy respetable y es muy buena, pero cuando se enoja , saca su machete (Item). 
Le gusta cantar mucho, y por su voz aguda, suele hacer duos con Garasu.
Ella tiene el pelo de color violeta mora, y en el append proximo solo las puntas. Lleva una boina de corazon con volados rojos, Vestido con decoraciones y voladillos turquesa, Zapatos celeste cielo y gemas Rosas chicle. Lleva a veces un Brazalete en el brazo aleatoriamente como Tsuki Nobotorume, pues ha hecho una promesa con el. Si ella se portaba bien en la tierra, no tendria que ser desterrada al otro mundo. Tanmbien lleva un moño en el pecho, igual al de Garasu, en simbolo a la amistad forjada entre ellas.
O
Ad blocker interference detected!
Wikia is a free-to-use site that makes money from advertising. We have a modified experience for viewers using ad blockers

Wikia is not accessible if you've made further modifications. Remove the custom ad blocker rule(s) and the page will load as expected.