DIONE MERULA


(Japanese: ヂォネ ・ メルラ - Dione Merura)

NAME INTERPRETATION:
(Full name: Dione Cassia Merula)
Dione - Latin praenomen meaning "of the goddess".
Cassia - Common nomen/gens name.
Merula - Cognomen meaning "blackbird".

TYPE: NONE
MODEL: NONE
GENDER
Female
VOICE RANGE
G3-E5
RELATED CHARACTERS
NONE
AGE
34 (Age at time of death)
GENRE
Choral, classical
HOMEPAGE
YouTube (Creator's YouTube)
WEIGHT
Uknown
CHARACTER ITEM
Candle
CREATOR
Roruna
HEIGHT
Uknown
VOICE SOURCE
Roruna
PICTURE LINK LIST
DA
BIRTHDAY
Unknown
LIKES
Languages, string instruments, candles and bonfires.
MEDIA LIST
YOUTUBE
RELEASE DATE
May 26, 2013
DISLIKES
Cold weather, loud noises.
SIGNATURE SONG
Pretty Little Dead Things
PERSONALITY: Death has rendered her mostly emotionless, but she still retains a strong curiosity for the world around her. Prefers to simply watch other people go about their business, by making herself at home in a candle or fireplace, and won't speak unless spoken to.
Supplemental Information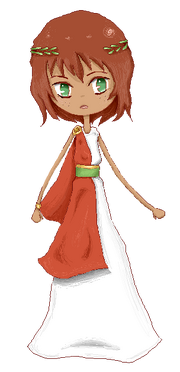 Dione has no official physical design or appearance. Instead, as a ghost, she is represented by abstract manifestations of the colors red, yellow, and orange. Thus, character designs can be up to the individual.
Race: Ghost (formerly human)
Nationality: Roman

Voice Configuration
Dione's Act 1 supports both Latin and Japanese. The bank has syllables for both ecclesiastical ("church") Latin, and classical ("real") Latin. It is encoded in Romaji with hiragana aliases, and includes a tuned oto.ini:
Since most Latin music is choral, Dione is intended to be able to sing as a miniature choir. However, her current voicebank is weak in the bass range. This is planned to be fixed with future updates/appends.
Dione sounds best with freesamp or resampler (freesamp improves her lower range, while resampler sounds good with her higher range). Model4 removes most of her breathiness, but in turn makes her sound extremely metallic.
Dione Act 2 is currently being recorded. A multipitch bank, her Act 2 will be solely focused on Latin and Italian, and thus won't be fully Japanese capable. A short sample of her act 2 can be heard here.
Suggested Listening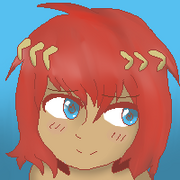 Songs featuring Dione's act 1 voicebank:
Pretty Little Dead Things (Original)
I've Found a Way to be Happy Forever (feat. LYRIC)
Usage Clause
1.Redistribution is acceptable so long as full credit is given to the original creator and no ownership is claimed over the bank.
2.No restrictions are placed on the use of this bank in violent, disturbing, or sexual songs. Go wild.
3.There are no restrictions against using this bank in religious music.
4.Commercial use is allowed so long as you first obtain the creator's permission.

This article is written and certified true and correct by the author of the character. The details seen here may be subject to change without prior notice.
Ad blocker interference detected!
Wikia is a free-to-use site that makes money from advertising. We have a modified experience for viewers using ad blockers

Wikia is not accessible if you've made further modifications. Remove the custom ad blocker rule(s) and the page will load as expected.