Drygva

(Belarussian: Дрыгва)

NAME INTERPRETATION: Дрыгва (belarussian) - bog or quagmire.

GENDER
Male
VOICE RANGE
E2-C4
RELATED CHARACTERS
Koetree Masuku (???)


Areku & Azemi Hoshizora (???)
Kitsune Dakesia
Aku Amata
Ennem Mon Star

AGE
unknown
GENRE
HOMEPAGE
WEIGHT
n/a
CHARACTER ITEM
CREATOR
Hikk-kun, emoPaladin (emoPaladin@DA , emoPaladin@YT)
HEIGHT
VOICE SOURCE

Hikk-kun

PICTURE LINK LIST
DA
BIRTHDAY
-
LIKES

took little girls into the quagmire

MEDIA LIST
n/a
RELEASE DATE

June 22, 2016

DISLIKES
-
SIGNATURE SONG
Pretty little dead things

PERSONALITY: Drygva (Swamp Cat) - drags its victims into a swamp. He became friends with a girl, but has lost her soon. Perhaps he is a nightmare.
Supplemental Information
Hair color: straw
Eye color: yellow-green
Nationality: n/a
Apperance : Here's a reference sheet. http://fav.me/daiz77t
Voice Configuration
Monopitch CV voicebank.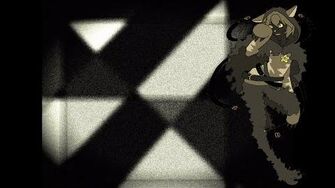 TECHNICAL INFORMATION
Дрыгва
ARCHIVE FILENAME
drygva.rar
ARCHIVE FILESIZE
32.6 МБ (34 246 656 байт)
DATE RELEASED
22/06/2016
NO. OF VOICE PHONEMES
314
TOTAL UNCOMPRESSED SIZE
54.6 МБ (57 278 464 байт)
PHONEME ENCODING
Romaji (Hiragana aliases)
AVERAGE FREQUENCY
E2-C4
FRQ FILE PRESENCE
Yes
LANGUAGES SUPPORTED
Japanese
UNOFFICIAL SUPPORTED LANGUAGES
[Please experiment]
OTO.INI PRESENCE
Yes
TUNED OTO.INI
LANGUAGE PARSED VIA OTO.INI
Japanese
VOICEBANK AUTHOR
emoPaladin
OTO.INI TUNER
emoPaladin
RECORDING SOFTWARE USED
DOWNLOAD LINK: http://www.4shared.com/rar/Cppu-mcQce/drygva.html
SPECIAL NOTES: He has a "miau" (meow) phoneme.
Usage Clause
The author gives full permission to use Drygva's voice in any kind of work as desired by the one depicting it, as long as it follows UTAU rules of usage. Mature art work and music is allowed, though if levels of explicity and vulgarity surpass taste, the author retains the right to remove or kindly ask the artist to remove it. This article is written and certified true and correct by the author of the character. The details seen here may be subject to change without prior notice.
Please, credit Fractured hope co., if you use his voicebank.
BUT
Please, do not roleplay as him! It's really important.