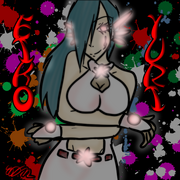 栄子 Yuri
栄子 = Eiko [Splendid child/Long lived child] Last name
ゆり = Yuri [Lily] First name
HOMEPAGE:// http://sup-loid.webs.com/index.htm
TYPE:// S.U.P-loid
MODEL:// ENTERTAINER/COMPANION
ITEM://
PERSONALITY://
She's actually a pretty jolly person, that want to live life to it's fullest, she loves closeness and easily trusts anyone, she doesn't usually get mad, take quite a lot to make her lose it. She likes games, and to flirt, but at the same time, doesn't get that there might be bad things conected to it, she's rather stupid... But that's probably for her best.
STORY://
re writing - check back later
REALATED CHARACTERS://
Mikan Naito - "Wait up Onii-chan~<3"
Kero Kaeru - "Oh! what a joy to have a friend like you!"
Fukai Yoru - "C'mon, can't you laugh?"
Ad blocker interference detected!
Wikia is a free-to-use site that makes money from advertising. We have a modified experience for viewers using ad blockers

Wikia is not accessible if you've made further modifications. Remove the custom ad blocker rule(s) and the page will load as expected.