Ad blocker interference detected!
Wikia is a free-to-use site that makes money from advertising. We have a modified experience for viewers using ad blockers

Wikia is not accessible if you've made further modifications. Remove the custom ad blocker rule(s) and the page will load as expected.
EITA ELEVEN


(Japanese: 十一谷瑛太- Juuichitani Eita)

NAME INTERPRETATION:
十一谷 = Juuichitani (Concerning the number 11)

瑛太 = Eita (Thick crystal)


TYPE: TIMEloid
MODEL: 011
GENDER
Male
RELATED CHARACTERS

Yu Sevens, Haru Threet and Riki Sixton (Best Friends Quartet// The Chaotic Time [混沌としたカルテット] )
Kori Twelves(Friend)

AGE

20

VOICE RANGE
VOICE RANGE
HOMEPAGE
Eita Eleven Spanish Wiki
Timeloids Web

WEIGHT

70 kg

CHARACTER ITEM
A book
CREATOR
SpanishPandaHero (YouTube Channel) DestinyKayChan (DeviantArt)

HEIGHT / MEASUREMENTS
180 cm
BIRTHDAY
March 18
LIKES
Reading, romantic things, Go out with the Chaotic Time/Quartet (Yu Sevens, Haru Threet and Riki Sixton)
RELEASE DATE
March 18, 2012
DISLIKES
Animal abuse and unsentimental people.
SIGNATURE SONG
Love is War
PERSONALITY: Eita is a sentimental and sensitive, usually get along with girls. He is a dreamer person too. One of his hobbies is disturbing to Yu Sevens with Haru Threet and Riki Sixton.He gets along well with all Timeloids, but especially with his friend Kori Twelves and his 3 friends: Yu Sevens, Haru Threet and Riki SixtonThis quartet usually has called The Chaotic Time(混沌としたカルテット). Formed byYu Sevens (The tsundere.), Haru Threet (The humorist.), Riki Sixton (The pervert.) and Eita Eleven (The sentimental.)
Supplemental Information
Hair color: Green.

Eye color: Brown.

Nationality/Race: Spanish.

Catchphrase: El amor es música. // The love is music.

Favorite phrase: Esto es poco romántico. // This isn't very romantic.)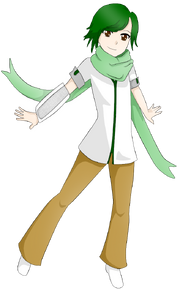 Voice Configuration
Eita is designed for Japanese and Spanish language. His voice data is written in Romaj, but in the ACT 3, he have hiragana aliases. His voicebank was the precursor of the CV standard. He is actually in the ACT 3.
VB: http://timeloid.blogspot.com.es/p/voice-banks.html
Usage Clause
Eita Eleven is for free use. The English translation is provided by the author.
You cant'tgender bending the voice of this UTAU.
You can'tuse this Utau in a religious hymn.
You can make art of this Utau if you give credits to "SpanishPandaHero" (YT) or "DestinyKayChan" (dA).