Eita


(瑛太; エイタロイド; η; /eːta/ /eita/)

Voicebank Name: Eitaloid (エイタロイド)
Character Name: Eita (瑛太)
Alias: Eta (η)


Name interpretation:
Kanji: 瑛太 On-Reading (エイタ not あきらふとし)
[::]  瑛: sparkle of jewelry; crystal
[::]  太: plump; thick; big around
Else: η: Greek lowercase letter "Eta"

Type: ###
Model: η (placed under his left arm stretched over his waist)
GENDER:
SEX:
SEXUAL ORIENTATION:

Male
Male
Homosexual

APPEARANCE:
HAIR COLOUR:
EYE COLOUR:
SKIN TONE:
BODY SHAPE:

Violet themed
Boysenberry
Thistle
Pale
Skinny
RELATED CHARACTERS
Has no relations jet
AGE
19 (Character)
NATIONALITY:
RACE:
German
Human
HOMEPAGE
Offical Youtube-Page will be: Eitaloid
WEIGHT
50 kg
(110 lbs)
CHARACTER ITEM
Universal dictionary
CREATOR/ V.SOURCE
Eitaloid
HEIGHT
170 cm
(5'6 feet)
CLOTHING
Swallowtail coat, Frilled shirt, Jabot
PICTURE LINK LIST
Will be deviantART
BIRTHDAY
14. February
LIKES
Doing something, no, everything
completely perfect; cooking;
playing piano
MEDIA LIST
Will be Youtube
RELEASE DATE
WIP
DISLIKES
Making mistakes;
his own shyness;
being pronounced
/aita/
SIGNATURE SONGS
###

PERSONALITY: He has a split personality; the one is polite, perfectionistic and a little arrogant; the other one is more open, lively and attackable. His first personality, which he shows most often to everybody around him, is, as mentioned before, very polite to persons he respects or respect him. Also is this his perfectionistic side that is unhappy if something he made is not perfect or unfinished. His weakness is his arrogance that is emphasized by his perfectionism. The second personality is very open and candid. This side of him is also lively and easier to handle. Bad thing about him is that he is easily broken and makes allegations against himself when he presumes that someone feels uneasy or uninterested in a conversation. Both of his sides do not ever complain or hate anything (at least they don't show it). Also both sides of him are Homosexual.
Voicebank
The IPA phonetics are planed, but currently in developement.
Voicebank Name: Eitaloid

CAPABILITY
PROGRESS
METHODE
v-cv; v-ccv; cv; ccv; vc; vcc
GERMAN
BASE
Extentions: in progress
Recording: /
NO. OF VOICE
VOCALS
ENGLISH
EXTENTION
Extentions: in progress
Recording: /
NO. OF VOICE
CONSONANTS
JAPANESE
EXTENTION
Extentions: Finished
Recording: /
VOICE RANGE
around C3
FRENCH
EXTENTION
Extentions: not started yet
Recording: /
LANGUAGES
PLANNED
German, English, Japanese,
French, Korean, Spanish,
Italian, Arabic, Norwegian,
Swedish, Icelandic, Dutch...

IPA (Base; with
all IPA vowels and
consonants; no
dihthongs or endings) 
Reclist: Finished
Recording: /
oto.ini: /

He shall be able to handle every spoken language because of the IPA-phonetics. His first language to speak will be a fictional one, and the second one German and then English. Other languages like Japanese or French will be added to the voicebank and will use the same base.
Design
3D Blender Model: In Progress: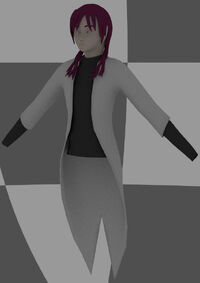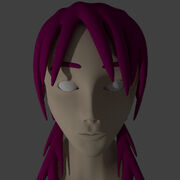 Head is finished; Needs eyes; no bones jet; no textures jet. Upper body; needs hands; no bones jet; no textures jet
A new Blender Model is in work. This one has a full body and Clothes. Only the hands and the feet lack. Also has no hair jet. The bones exist, but need a bit of fine tuning.

MMD Model: Planed (will descend from the Blender Model)
Ad blocker interference detected!
Wikia is a free-to-use site that makes money from advertising. We have a modified experience for viewers using ad blockers

Wikia is not accessible if you've made further modifications. Remove the custom ad blocker rule(s) and the page will load as expected.