Ad blocker interference detected!
Wikia is a free-to-use site that makes money from advertising. We have a modified experience for viewers using ad blockers

Wikia is not accessible if you've made further modifications. Remove the custom ad blocker rule(s) and the page will load as expected.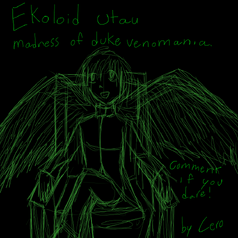 Ekoloid Eko
Home page- http://ekoloids.webs.com
part of the Echoing Utauloid series
Youtube channel- http://www.youtube.com/user/TheWolfThatParties?feature=mhee
VB download- http://www.mediafire.com/?xpwt0z252xw69mg
Name: Eko Ekoloid
Age: 16
Release date- 2/15/12
Hair: green and shaggy
Eyes: dark blue
Clothes: green shirt grey pants
Other: green wings no headset
Personality: awkwardly tries to be aloof, split personalities. generally very superior acting if he knows you. likes to play victim.
Relationships: Himiko a vocaloid OC is his girlfriend.
Siblings: Mary-onette(unreleased)
Likes: being in control, being alone, computer games, winning.
Dislikes: things out of his control, crowded areas, nature, losing.
Item: his wings
Height- 5'11"
Weight- 210lbs
sounds good when tuned