Emi Merushine


(Japanese: '笑みメルシね' - Emi Merushine)


NAME INTERPRETATION:
笑み (Emi); Emi means 'smile' in Japanese.
メルシね(Merushine); Merushi is an adaptation of the surname of her creator. Can also be seen as the Japanese pronunciation of the word 'merci', which means 'thank you' in French'

GENDER
Female
VOICE RANGE

(CV: D#4~G#5)

RELATED CHARACTERS
AGE
15
GENRE
Any
HOMEPAGE
MimiOnigiri (Deviantart)
WEIGHT
48.7 kg kg
CHARACTER ITEM
Daisy
CREATOR
MimiOnigiri
HEIGHT / MEASUREMENTS
1.56 m
VOICE SOURCE
MimiOnigiri
PICTURE LINK LIST
(Deviantart)
BIRTHDAY
13th of September
LIKES
Flowers, cute and/or colourful things, animals, singing, candy, chocolate,living
MEDIA LIST
Not ready yet
RELEASE DATE

1st of July 2014

DISLIKES
Selfish people, creepy places, sour food, death, horror movies
SIGNATURE SONG
Once Upon A Me
PERSONALITY: Emi really lives up to her name by being a very positive, smiling girl. She will always try to help people and cheer them up. She doesn't get angry or sad quickly. She can be a big airheaded goof at times, but she's such a lovely girl, people tend to forgive her for that. She worked hard to keep improving herself to be a good and gentle person and really loves life.
Supplemental Information
Hair color: Blonde, also has little bits of orange around her fringe and in her braids.
Headgear: Blue bow/hair ribbon
Eye color: yellow/orange
Nationality: Belgian
Motto: "You can find happiness everywhere."
「どこにでも幸せを見つけることができます。」
Extra information: She wears some sort of half see-though blue cape. It is attached to two rings on her upper arms.
Other
The reason for Emi's birthday totally not being close to her release date is the fact that the release always got postponed. Emi's first design was drawn on 13 September 2014, hence her birthday being that date.
Voicebanks
- ACT1 CV http://www.mediafire.com/download/p351pclok75owdm/Emi+Merushine+CV+ACT+1.zip
Design
Emi Merushine CV ACT1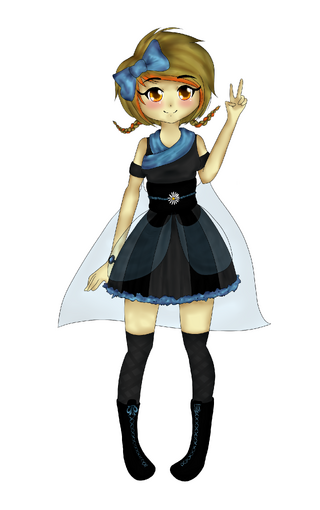 Ad blocker interference detected!
Wikia is a free-to-use site that makes money from advertising. We have a modified experience for viewers using ad blockers

Wikia is not accessible if you've made further modifications. Remove the custom ad blocker rule(s) and the page will load as expected.