Ad blocker interference detected!
Wikia is a free-to-use site that makes money from advertising. We have a modified experience for viewers using ad blockers

Wikia is not accessible if you've made further modifications. Remove the custom ad blocker rule(s) and the page will load as expected.
 

EMI SETSUKO


(Japanese: エミセツコ - えみせつこ - Emi Setsuko)

ALIAS: Emi - (Setsuko)
NAME INTERPRETATION:
えみせつこ (Emi Setsuko; Beautiful Melody)
TYPE: Ziploid
MODEL: Version 1
GENDER
Female
VOICE RANGE
(n/a)
RELATED CHARACTERS
Ikura Kikoeru - (Friend) 
AGE
17
GENRE
Any
HOMEPAGE
Homepage
WEIGHT
108 lbs (49 kg)
CHARACTER ITEM
Green "On" Button (Can be found on clothing.)
CREATOR
xXpikoLoverXx/GingerbreadGrlz
HEIGHT
5'6" (168 cm)
VOICE SOURCE
'xXpikoLoverXx/GingerbreadGrlz'/xxteadrinkerxx/AnxiousCupcake
PICTURE LINK LIST
PIAPRO, PIXIV, +setsuko DEVIANT ART, GELBOORU, +setsuko&as_epq=エミセツコ GOOGLE IMAGE, %20setsuko PHOTOBUCKET
BIRTHDAY
November 18, 1997
LIKES
Purple things, the power button, cats, singing, talking to people, drawing, singing with friends.
MEDIA LIST
NICO NICO DOUGA, +setsuko+%22エミセツコ%22 YOUTUBE
RELEASE DATE
January 28, 2013
DISLIKES
Kids, turning things off, nosy people, not singing
SIGNATURE SONG
Life Reset Button
PERSONALITY: She can be very shy. But only her close friends know that she is pretty outgoing. She cannot see anything without her glasses so she must keep them on at all times. She is very kind and careful. She is an anxious person but she tries not to let that get in the way of her singing and fun. Prefers to dress as a boy. Meaning she loves to cross-dress. Can be described as a 'tom-boy'.
Supplemental Information
Her name is in western order. Hair color: Purple Headgear: Black and neon green Eye color: Light Blue Earphones: Black and neon green Dress/Outfit: Silver/Purple/Neon green Others: n/a Nationality/Race: Unknown
Voice Configuration
ACT1: Download: http://www.mediafire.com/download/3yldp8du3b4a92w/Emi_Setsuko.rar (Converted to a RAR file.)
Song List: 
Circus Monster  1-31-13
Life Reset Button  1-31-13
Anti The Infinite Holic Feat. Fushi Murasaki  2-3-13
Trick and Treat Feat. Fushi Murasaki  2-24-13
Wave  (Date Unknown)
Depression Of The Young Literati   (Date Unknown)
Melody  (Date Unknown)
Abstract Nonsense   (Date Unknown)
Bad Bye  (Date Unknown)
Poker Face   6-7-13
Lost One's Weeping - Duet With Piper  12-6-13
Design: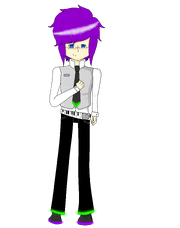 This is her new design. The first one is old and I have improved on my drawing skills. ^-^