Emmy is the first Rainbowloid made. She is run on the R1 (Rainbowloid 1) She speaks Japanese and is the same age as Rina.
Info: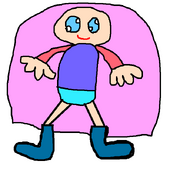 Full name: Emmilish "Emmy" Emol Irvine (surname is creator's surname)
Age: 23
Genre: Celtic, Pop, 8-bit
Likes: Hatsune Miku, Kasane Teto, Avanna (her BFF), Her long hair, Crayon Shin Chan (manga), Speaking Scottish Gealic, Scottish Slang, Rina.
Dislikes: Hula Hoops (crisps), Akita Neru, People finding out that her shorts are pants (but not Avanna, and don't tell her that this is on the wiki), being sad.