Ester Nakarai 

(Japanese:)

NAME INTERPRETATION: Ester (Star Or Myrtle Leaf) Nakarai (a plant bearing a large edible pod, trichosanthes anguina)

TYPE: UTAUloid
MODEL: FS-88 (FS is Creator name and 88 the Creator Birthdate)
GENDER
Male
VOICE RANGE
A#3
RELATED CHARACTERS




AGE
16
GENRE
 Any
HOMEPAGE
-
WEIGHT
65
CHARACTER ITEM
Bubblegum
CREATOR

Michika Mochizuki

HEIGHT / MEASUREMENTS

182

VOICE SOURCE
Michika Mochizuki
PICTURE LINK LIST
BIRTHDAY
28-08-1997
LIKES
Helping People,  Cooking, Sport, Ball
MEDIA LIST
https://soundcloud.com/ester-nakarai
RELEASE DATE
03- 04 - 2013
DISLIKES
Annoying people
SIGNATURE SONG
-

PERSONALITY: Esther nakarai has two personality. the first personality, that is very good personalities but he was not sensitive to the feelings of others ',he also likes to help and be generous. but, do not bother him when he's being serious.he will change the total to thugs. And Destroy every thing of the nearby. That's the second personality. 'He is a protect Person . he will give everything for someone he loved.
Character Design Edit
Hair color: Caramel
Eye color: Light Blue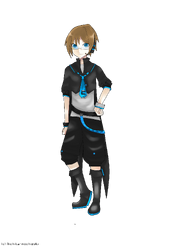 Headphone: Dark Gray and light Blue
Belt: Light Gray and Dark Gray
Shoes : Dark Gray
Pants : Dark Gray with Blue Strip
Coat : light Gray with blue Strip

'Nationality: 'Japanese - Indonesian
Voice Configuration Edit
Act.1(ACT.1)
- very low quality
- just romanji
Act.2 (ACT.2) 

-good quality

Act .2.2 (ACT.2.2)
-good quality
-better oto.ini
-clear
Other Relation Edit
He really like sweet candy
Cook homemade recipes
helping people
he is a hard worker
long year ago he is a killer
Ester <-- Named for Girl
Usage Clause Edit
Avoid Mary-sue
Not for sale, use her freely free
Please credit/tell the author if you use her voice
Certified UTAU from AmizuChan. Do not Edit with Mochika Mochizuki permission
Ad blocker interference detected!
Wikia is a free-to-use site that makes money from advertising. We have a modified experience for viewers using ad blockers

Wikia is not accessible if you've made further modifications. Remove the custom ad blocker rule(s) and the page will load as expected.