凤凰 蓝色
TYPE: Utaloid
Gender

Male
Voice Range
A#2 - F#4
Genre
Preferablly slower lower ranged songs
Related Characters

Xie Lan Se (

蝎 蓝色) - TBA

Voice Provider

Hex

Assitance
Amurice
Height
6 ft 2 in
Weight
156 lbs
Concept
Full
Age
14 years
Birth Date
July 26
Release Date
September 22nd 2013
Likes

Sriracha, spicy food, bugs (grasshoppers), grass

Dislikes
arguments, jokes taken too far
Character Item
lotus flower
Other:
Hair color: Black
Eyes:
Blue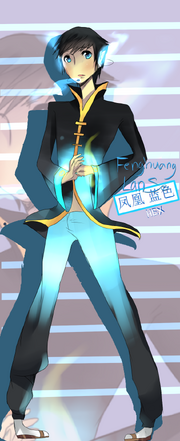 Nationality/Race: Chinese
Outfit: He wears the traditional Chinese clothing for men, from the bottom of his shirt; it is colored a cyan blue ( representing "Blue Fire"; ) and blends in with the black of his shirt. At the end of his sleeves, there is a fabric of cyan blue with a small lit up yellow power button. Starting from the top of his pants is a cyan blue, fading into black. For his shoes he wears socks and sandals; which is rather odd. Around his ears, he has a thin dark grey metallic piece with a design around his hears (Headphones; See here: gyazo.com/56c26530d0a66cfcaa35849... ), with small pieces of gray metal which produce the sound and holographic blue fire. The left headphone piece has the microphone; bending behind the back of his head to in front of his mouth ( See here: gyazo.com/1b8de040236f3b57bc987c2... ).
Voice Configuration
CV ACT 1 (with romaji and hiragana alias) - Mediafire
Pass: fenchan
Notes: Missing a few syllables such as "nya".
Ad blocker interference detected!
Wikia is a free-to-use site that makes money from advertising. We have a modified experience for viewers using ad blockers

Wikia is not accessible if you've made further modifications. Remove the custom ad blocker rule(s) and the page will load as expected.