Fire Inus 

(Japanese: イヌスファイル  - Inusu Fairu)

NAME INTERPRETATION:
His name doesn't have meaning, but we can say it's from Fire in Us

TYPE: Macot
MODEL: NONE
GENDER
Male
VOCAL
RELATED CHARACTERS

WALTT (Same Creator)

AGE
15
GENRE

J-Pop

Ballads

HOMEPAGE
FA DA
WEIGHT
52 Kg
CHARACTER ITEM
Lemon Pie/Miko (?)
CREATOR
MYIKO
HEIGHT
Unknow
VOICE SOURCE
Utakoloid
PICTURE LINK LIST
NONE
BIRTHDAY
October, 9
LIKES
Animals, Sweets, Colorful things, Plushies, Pies...
MEDIA LIST
YOUTUBE
RELEASE DATE

December/January, 31/1, 2012/13 (POWER+WISHPER)

DISLIKES
Humans, Ants, Fish, Violence, Blood
SIGNATURE SONG
N/A

PERSONALITY:  Fire is a very childish boy, he tries to be always kind and does everything people want him to, he hardly ever speaks because he thinks no one cares about him, He has an adversity to humans because he thinks they are selfish and unkind
Supplemental information
Hair:  Spiky and Blond 
Headgear: None
Eye Color: Greenish Blue
Dress: He wears a long yellow sweater with trousers, he also has a big orange scarf and some details on his clothing 
Nationality/Spiecies: Mascot
Physique: He is very thin and muscle-less He's little kangaro Miko is ALWAYS with him
He is one of the first African UTAUloids.
VoiceBank History
Fire has had lots of failed Voicebanks because of quality issues, his actually publicly released ones are here.
Fire Inus Default CV/VCV lite [Not Released]
Fire Inus POWER+WHISPER [download here]
Fire's Design
Fire's dessing was made by Utakoloid/Myiko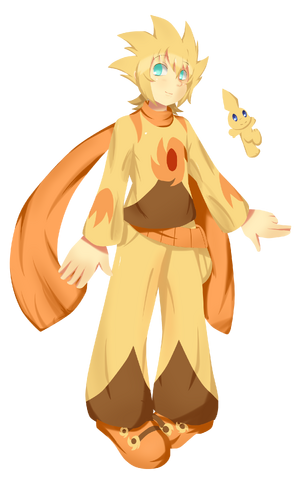 Ad blocker interference detected!
Wikia is a free-to-use site that makes money from advertising. We have a modified experience for viewers using ad blockers

Wikia is not accessible if you've made further modifications. Remove the custom ad blocker rule(s) and the page will load as expected.