FLAMING TYBALT


(Japanese: ティバルト 燃える - Tibaruto Moeru)

NAME INTERPRETATION:
燃える (Moeru; Flaming, like fire, you know?)
TYPE: TYBARUTOloid
MODEL: 1134
GENDER
Female
VOICE RANGE
UNKNOWN
RELATED CHARACTERS

NONE

AGE
24
GENRE
UNKNOWN
HOMEPAGE
NONE
WEIGHT
0 lbs         (0 kg)
CHARACTER ITEM
UNKNOWN
CREATOR
Tybalitus
HEIGHT
5'11" feet (180 cm)
VOICE SOURCE
Tybalitus
PICTURE LINK LIST
CONCEPT ART, BOX ART, DEVIANT ART
DEATHDAY
October 13, 1989
LIKES
Singing, flitring, haunting, sweets
MEDIA LIST
NICO NICO DOUGA, YOUTUBE
RELEASE DATE
February 23, 2013
DISLIKES
Brussel Sprouts
SIGNATURE SONG
Mixed Signals (not yet released)
PERSONALITY: A ghost who very much loves to haunt and scare people. However, when not doing this, she's quite a flirty lady, with a high temper, and a lot of sarcasm in store. Usually, she's quite sweet if she's happy.
Supplemental Information
Hair color:
Auburn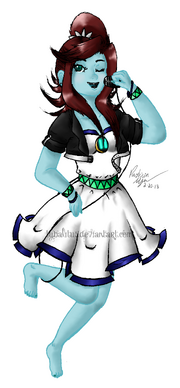 Headgear:
None
Eye color:
Teal

Accessory: The electric pendant on her dress turns into a pause sign when she sings and a play sign when she doesn't. If it's clicked, she'll either stop or start singing uncontrollably.
Fun Facts
Flaming is a ghost who was brought in by a shady company to sing for them.
Flaming weighs nothing and wears no shoes because she is a floating ghost.
Flaming has multible ports and slots in the back of her belt (in her concept art, the mic is connected to her belt)
When she was alive, Flaming was an aspiring but unnoticed singer. Her popularity was pretty much the lowest possible. Since she's more popular as a ghost, she doesn't mind being dead because she's living out her dream.
Voice Configuration
Flaming Tybalt is a CV voicebank, and is designed to sing in Japanese and limited English.
Flaming's ACT 1 VB is available here:
http://www.mediafire.com/?mq4wgiooyqaa96j
These details are certified correct and true from Flaming Tybalt's creator, tybalitus. The details seen here may be subject to change without prior notice. This is because I'm the one who made this page.