Piki Fuwane


(Japanese: ふわねピキ - Fuwane Piki)

NAME INTERPRETATION:
ふわね (Fuwane) - Fuwa from fuwa fuwa meaning fluffy, and ne meaning sound.
ピキ (Piki) - Just a random name without any meaning.
TYPE: NEKOLOID (in Japanese, 猫LOID)
MODEL: 0110
GENDER
Female
VOICE RANGE
E3-A5
RELATED CHARACTERS
coming soon
AGE
18
GENRE
Rock, Ballad, Pop, Jazz, Traditional, etc
HOMEPAGE
Youtube
WEIGHT
110 lbs (50 kg)
CHARACTER ITEM
Taiyaki
CREATOR
Jinhii (mujakinakokoro @ YT)
HEIGHT / MEASUREMENTS
5'2" ft (159.5 cm)
VOICE SOURCE
Jinhii
PICTURE LINK LIST
BIRTHDAY
January 10, 1994
LIKES
Taiyaki, bells, ribbons
MEDIA LIST
Youtube
RELEASE DATE
August 20, 2012
DISLIKES
Water, waking up
SIGNATURE SONGS
Meteor Setsuna Trip Perfect Crime Love Letter
PERSONALITY: Being a black cat, Piki is very shy. Although she is shy at first, she can open up once she knows you better and may even grow fond of you. She loves to eat taiyaki. Piki tends to sleep a lot. She has a pet cat named Nero.
Supplemental Information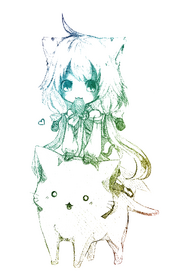 Hair color: Black w/ an ahoge(cowlick)
Headgear: none
Eye color: Right eye is aqua/cyan, Left eye is green
Dress: Hanbok-inspired modern-style white dress with cyan+green trimmings and ribbons. Alternate outfit is her cat hoodie and shorts w/ dark gray thigh high stockings.(ref can be found above in art section) She may also wear different outfits as long as they are in the same color scheme.
Nationality/Race: Nekomimi, or human with cat ears (and tail)
Favorite phrase: Oyasumi nasai
Voice Configuration
Piki is designed for Japanese language only, plus limited English. She has V sounds and T sounds and a few others that you can substitute for some English to make her sound more fluent than just using Japanese equivalents. Her voice data is written in Romaji, so Hiragana users must convert the filenames into Hiragana first before using her.
Her voicebank can be downloaded here
Usage Clause
Piki Fuwane may be used to sing existing songs and original songs if desired, as long as proper credit is given. Her character design may not be used except for video art and fanart. Please do not copy her design for your own character.
Ad blocker interference detected!
Wikia is a free-to-use site that makes money from advertising. We have a modified experience for viewers using ad blockers

Wikia is not accessible if you've made further modifications. Remove the custom ad blocker rule(s) and the page will load as expected.