FUYUKI KOBAYASHI


(Japanese: 小林冬樹 - こばやしふゆき - Kobayashi Fuyuki)

NAME INTERPRETATION:
小林 (Kobayashi; Small woods)

冬樹 (Fuyuki; Snowy winter)

His name could be interpreted as, "The snowy winter in the small woods."

TYPE: FUYUloid
MODEL: 01
GENDER
Male
VOICE RANGE
C3 ~ C5 (This is the range he sounds best at)
RELATED CHARACTERS
Fuyuko (Younger sister)

(Husband)

Cyrus (Family friend)

Yukito (Fellow FUYUloid)

AGE
25
GENRE
Any
HOMEPAGE
NONE
WEIGHT
180 lbs (82 kg)
CHARACTER ITEM
Pork bun (Nikuman/Cha siu bao) (Preferably baked)
CREATOR
Fuyushinju (design by KaiSuki)
HEIGHT
5'8" (179 cm)
VOICE SOURCE
Fuyushinju
PICTURE LINK LIST
BIRTHDAY
September 7
LIKES
Cooking, vanilla chai tea, 'pork buns (preferably baked), Psychology
MEDIA LIST
YouTube
RELEASE DATE
September 14th, 2016
DISLIKES
Mushrooms, asparagus, damaged books
SIGNATURE SONG
(しゃぼんのサラマンドラSalamander of Soap)
PERSONALITY: Fuyuki is very calm and mature, but can be easily influenced to be rowdy with the right people (mainly his sister); this energy doesn't last long as it's very draining for him to be energetic for long periods of time. He's a thorough bookworm and tends to go off on tangents when explaining something. Loves listening to people's stories the most. In general he is a very calm and wise person, very hard to anger. He often cooks a lot more dinner than he needs to because he eats a LOT.
Voicebank Download
His VB is available for download here. This is a VB pack which includes his normal and SHOUT!! VCV.
Supplemental Information
Hair color: Royal Blue
Headgear: White beret, thin wire, rounded glasses.
Eye color: Teal
Dress/Outfit: A short-sleeved white shirt with a blue cardigan. Wears brown pants and dark blue boots.
Others: He wears a snowlake necklace.

Voice Configuration
He absolutely needs this g flag for his voice and preferably, I use a g+20 flag on him but feel free to experiment between 15-20 if you'd like!
Trivia
Very skilled with a needle and thread.
Uses "boku" pronoun.
Adjusts his glasses compulsively when flustered.
Speaks fluent English, Japanese, and Spanish.
His necklace was a gift from his sister.
He is pansexual.
Cooks very well, but can only bake with pre-made mixes.
He works as a college professor.
Concept Art
All art is done by KaiSuki
MikuMikuDance Model
His MMD model was created by MayDayFireBall and you can find her deviantArt here! http://maydayfireball.deviantart.com/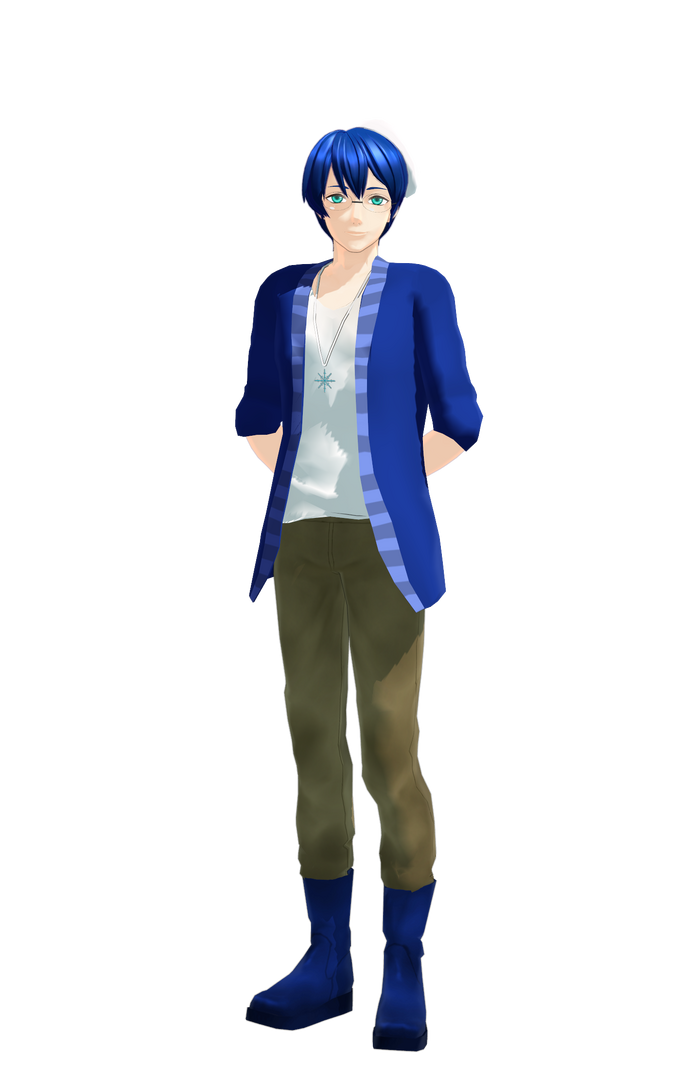 Ad blocker interference detected!
Wikia is a free-to-use site that makes money from advertising. We have a modified experience for viewers using ad blockers

Wikia is not accessible if you've made further modifications. Remove the custom ad blocker rule(s) and the page will load as expected.