Basic info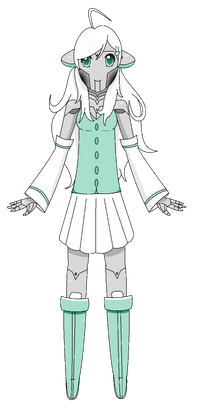 Name : G-3egee ( Pronounced JiJi )
Age : Programmed to be 13 years old. ( Built Feb. 21st , 2017 )
Birthday : ( Created on ) February 21st.
Gender : Female
Eyes : Light green
Hair : White
Height : 158 Cm
Family : G-3orge and G-3mma ( Yet to be released )
Friends : Yoru Yuki , Sakura Yume [Needs to ask permission for others]
Personality : Shy , cheerful , crybaby , unable to stand up for herself , innocent
Character items : None
Likes : Butterflies , flowers , singing , gasoline ( Often caught drinking it straight from the gas pump ) , Steam Powered Giraffe ( Her favourite band )
Dislikes : Horror , G-3orge's attitude , small spaces , darkness , fireworks
Relation with her family :
G-3egee loves her family dearly , even if they're a lot older than her. G-3mma is 25 and G-3orge is 32. She is very playful , which G-3orge can't stand. She's the closest with G-3mma.
Creator/voice : a-sinning-midget.deviantart.com
Voicebank
Regular Romaji CV V 0.1 : [Link]
Regular Romaji CV V 0.2 ( Oto update ) : [Link]
Append Android Romaji CV V 0.1 : [Link]
Coming soon :
English Romaji CV
Append Power CV
Songs
Regular Romaji CV V 0.1 :
Matryoshka ( Ft. Shicara Ongaku )
Useless Child ( Ft. Kasane Teto )
Append Android Romaji CV V 0.1 :
Trivia
G-3egee is inspired by Steam Powered Giraffe , one of my ( The creator of G-3egee ) favourite bands.
G-3egee's voicebank was intended to only have an android append.
G-3egee might get an English voicebank in the future
G-3egee is part of the G-3 family. The G-3 family consists out of three steambots : G-3egee , who runs on cream , G-3mma , who runs on milk , and G-3orge , who runs on water.
G-3egee is my first Utauloid , who was originally intended to have an oto done by MMD-Anime-Bunny ( owner of Miyako Aoi ) since I didn't know how to. But due to my pc refusing to download the file right , I had to teach myself to oto , using Defoko as a reference ( I didn't know what I was doing though. Shout out to MMD-Anime-Bunny for indirectly teaching me how to oto! )
Ad blocker interference detected!
Wikia is a free-to-use site that makes money from advertising. We have a modified experience for viewers using ad blockers

Wikia is not accessible if you've made further modifications. Remove the custom ad blocker rule(s) and the page will load as expected.