100px

Gentei Boisu




(Japanese - 限定ボイス)

NAME INTERPRETATION:
限定 - Limited

ボイス - Voice

TYPE: UTAUloid/ROBOLOID/FAILloid
MODEL: ROBOLOID
GENDER
female
VOICE RANGE
Gentei Boisu's range is not defined
RELATED
CHARACTERS:
AGE
18
GENRE
Metal/Rock
HOMEPAGE
Unknown
WEIGHT
275
CHARACTER ITEM
Smash Bros. Brawl Golden Hammmer
CREATOR
creator: Dazen

editor: Gavenloid/Otaku Studio

HEIGHT
7 foot 3
VOICE SOURCE
Ebflover777/Dazenloid-Wav file donor

Yumine Kisa-Frequency File & OTO.ini donor

PICTURE LINK LIST
Not available
BIRTHDAY
June 6
LIKES
Power, electricity, copper, ruling, internet, chaos, murdering, and peanut butter
MEDIA LIST
Not available
RELEASE DATE
May 27, 2016
DISLIKES
Being a civilian, low power, jam, lagging, no internet
SIGNATURE SONG
Outer Science
ADDITIONAL INFO: A robot from the year 3550, she is agile, cunning, and the talkative robot queen of the Rolias Clan. She can strech her arms and legs to 100x their normal length, and can expand her always-hidden robo-jetpack-wings to fly and even levitate. Gentei learned about 2016 one day, and wanted to go back in time. The Vocaloids held prisoner by the clan determined that she would fry during time travel, but she survived.
Character Design
Clothing: Bloody Teal Cat Hoodie, Black Pants,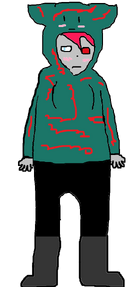 and Black Shoes/Boots  
Eye color: Light Blue on left, Red Eye on right
Headgear: none
Nationally/Race: American Robot Girl
Voice Configuation
File Encoding:                                                                                      

Romanized Filenames
OTO.ini Aliasing:

Romaji Aliasing (WARNING: DELETE OTO.INI SO GENTEI CAN SING! IF YOU DON'T, YOUR UTAU PROJECT WILL CRASH!)
Voicebank Configured on:

UTAU PC
Supported Languages:
NOTE: Her voices sound very different from one another, as her creator decided to make this voicebank series by mixing files! She decided she could get away with it via futuristic robot, and it works!
She is encoded in both romaji and hiragana, Romaji Voicebank Download: http://www.mediafire.com/download/k5b134watwzrx4b/Gentai+Boisu.zip
Hiragana Download: [1]
Undertale-Type: Here
Ad blocker interference detected!
Wikia is a free-to-use site that makes money from advertising. We have a modified experience for viewers using ad blockers

Wikia is not accessible if you've made further modifications. Remove the custom ad blocker rule(s) and the page will load as expected.