Gin Chiuta

(Japanese: 血歌 銀)

NAME INTERPRETATION: 血歌 - 'blood song' 銀 - 'silver''
GENDER
Female
VOICE RANGE
F3~B4
RELATED CHARACTERS
Fumie Ishikawa (Frienemy)
AGE

22

GENRE
All
HOMEPAGE
Tumblr
WEIGHT
N/A
CHARACTER ITEM
Licorice Candy
CREATOR
Tearstainedhappiness
HEIGHT
5'9ft
VOICE SOURCE
Tearstainedhappiness
PICTURE LINK LIST
BIRTHDAY

July 2nd

LIKES

Licorice, being admired, drinking, cute utauloids, flirting, memes, generally being a pest and joking around

MEDIA LIST
Tumblr
RELEASE DATE
July 2nd, 2017
DISLIKES

Not being taken seriously, generally being made fun of, nagging, not getting singing gigs, coffee, uptight and serious people

SIGNATURE SONG
NONE

PERSONALITY:

Gin is a star!.. or at least that's how she sees and thinks of herself. She can be a bit petty and superficial being that she always thinks she deserves the spotlight and that her talent could rival that of actual Vocaloid..

However that simply is not true. She's still a newbie, still learning and trying to improve her singing and scrambling for singing gigs to try to attain the popularity she desires.. and money since she tends to be a little broke.

Taking herself so seriously ends in her being a little hot-headed and full of sass as well. Gin won't stand for being treated as less than she is. Although the one person she does endure it from is Fumie, the two love to tease and make fun of each other.

Even though she has high aspirations and a rather prideful mindset she still very much loves to joke around and have fun and if you don't like to let loose and get into some trouble Gin's probably gonna think you're lame.
Supplemental Information
Hair color: Silver
Eye color: Red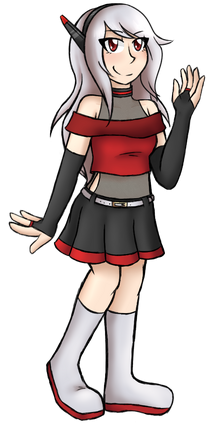 Info: The red tips of her antennas and the red on her choker both glow.
Link To Voice Bank
Gin Chiuta is only a CV UTAUloid. There are no plans for a VCV voicebank yet.
She can read both Romanji and Hiragana.
(Reminder: Please use at least a g-5 flag when using Gin for her to sound as intended.)
Terms and Conditions
Do NOT use Gin for commercial purposes.
Do NOT claim Gin's design/voicebanks as your own.
If you have any further questions feel free to contact me on tumblr or dA.
Ad blocker interference detected!
Wikia is a free-to-use site that makes money from advertising. We have a modified experience for viewers using ad blockers

Wikia is not accessible if you've made further modifications. Remove the custom ad blocker rule(s) and the page will load as expected.