HIKARI WAINOT

(Japanese: ひかり ワイのT - HI KA RI WA I NOT)

NAME INTERPRETATION:

光 (Hikari - light - свет)

Wainot - Whynot - Why not? - почему бы и нет?

TYPE: ScandiUta

GENDER
Female
VOICE RANGE

C4~F5 (1act)

C3-F5 (2act)

E3~A5 (vcv)

RELATED CHARACTERS

Zaru Kitsune (little sister)

Agma (best friend)

AGE
19

GENRE

Requiem, Pop
HOMEPAGE
WEIGHT

90 kg 

 (due to the large thighs)

 CHARACTER ITEM
battledore
CREATOR
Puffin kun&Pelme
HEIGHT
 169 cm
VOICE SOURCE

Puffin kun

PICTURE LINK LIST
N\A
BIRTHDAY
-
LIKES

Trolling, Canada, The movie "Twilight" (especially Edward)

MEDIA LIST
ScandiUta
RELEASE DATE
02.01.13
DISLIKES

Water

SIGNATURE SONG
Ice Water Color

PERSONALITY: Hikari is a very selfish person. She`s a ball jointed doll. 
Supplemental information
Hair color: Blue and Purple
Eye color: Blue
Clothing: look at the picture
Nationality/Race: ?
Other: 
'P.S. HIKARI has wonderful MMD model by Pelme, but i can`t  give it for you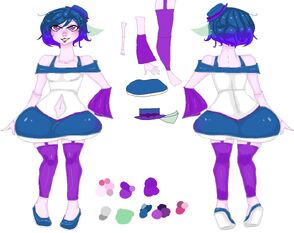 Ad blocker interference detected!
Wikia is a free-to-use site that makes money from advertising. We have a modified experience for viewers using ad blockers

Wikia is not accessible if you've made further modifications. Remove the custom ad blocker rule(s) and the page will load as expected.