Hana Asane
Talk

0
3,596pages on
this wiki
Added by

Miramiee




 

HANA ASANE


(Japanese:朝音花- あさねはな- Asane Hana)

NAME INTERPRETATION:
花 (Hana; Flower)
朝音 (Asane; Morning Sound) Can be really roughly interpreted as "The Sound of a Morning Flower"

TYPE: UTAUloid
MODEL: 2+
GENDER
Female
VOICE RANGE

F2 -- F#6

RELATED CHARACTERS

Asamori Shiro (childhood friend)

Amano Kiseki( close friend)

Tomaru Mune (close friend)

Kuro Fuhyo(friend)

Crevan (friend)

Akatsuki Hare ( close friend)

Seika Yuta(friend)

Lyric(Close friend)

AGE
About 16
GENRE
"What sounds good, fits!"
HOMEPAGE
This Page.
WEIGHT
Work in Progress
CHARACTER ITEM
Rhubarb
CREATOR
Miramiee
HEIGHT / MEASUREMENTS
About 158 cm
VOICE SOURCE
Miramiee
BEST RESAMPLERS

'Resampler'(Utau 4.11+) Fresamp (Flag-F0Y0C12)

BIRTHDAY
March 27
LIKES

Rhubarbs, Tea, sweets,

FAVORITE SONGS:

Step To You, Clock Lock Works, Green Straight, Double Lariat, Joking Speaker

RELEASE DATE
[TBA]
DISLIKES
Propaganda, ignorance, losing
SIGNATURE SONG

PERSONALITY: - Not particularly rude but very sarcastic and "out-voiced." Sees the better things in life over her problems and can be carefree in inappropriate moments. Doesn't believe in trusting and depending others for what SHE personally needs done and that anything can be done with willpower and resolve. Usually, she's the happy person to tease people and make the mood brighter but that really is do to her self-confidence. She likes being in groups only to find interests and weaknesses in other people. Sorta just like 'examining them.' 
Appearance and Other Information
Edit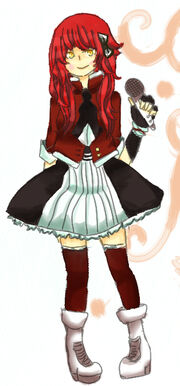 Headgear
: A black-white bow
Hair: Strong red, pinkish-orange often.
Eye color: Bright yellow mixed with a small bit of orange.
Earphones: None
Clothing: (See left)
Nationality/Race: Undecided. Most likely an Android.
Favorite phrase: "Oh really?" or "And?"
Appends and ACTS
Edit
There are different appends and acts soon to be or are available for future download on this page. Most are still in a work of progress so none are seen as of now. As it stands, the creator and voice of Hana Asane has lost the first ever ACT1 for Asane Hana due to unexpected computer issues. All ACTS 2 and up will soon be available for download, Same will go for the Appends as the official design and other matters aren't finish or developed yet. However, if one will want to use the bank regardless, you should have to contact the creator in any means possible(most preferably, by her Youtube account). More information available below.
Below are Appends and ACTS that currently exist or had once existed for download:
Append Sweet
Asane Hana ACT1
Below are planned projects for different ACTS and Appends. They are listed in the order of which should be completed first:
Asane Hana Append Cry (VCV Powerscale)
Asane Hana ACT 2.5 (CV)
Midnight and Morning Appends(or otherwise known as Light and Dark Appends)
Mystery Project!
Song Covers
Edit
Below is a list of song covers descending from most recent to least recent. Covers created by other users using her should go here as well in correct order.
自傷無色 /Self-Inflicted Achromatic
ごめんね ごめんね /I'm Sorry I'm Sorry