FUEYUKI HANEKIREI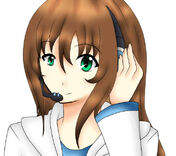 </p>

(Japanese: 葉音きれい笛雪 - はねきれいふえゆき - Hanekirei Fueyuki)
NAME INTERPRETATION:

葉 - (Ha; Leaf)

音 - (Ne; Sound)

きれい - (Kirei; Beautiful)

笛 - (Fue; Flute)

雪 - (Yuki; Snow)

葉音きれい - (Hanekirei; Beautiful Leaf Sound)

フエ (Fue) - written in kanji 笛, means Flute

TYPE: UTAUloid

MODEL: HF-320

GENDER

Female

VOICE RANGE

C3~C5 ?

RELATED CHARACTERS

Hanekirei Kyouta (Brother)

Shinobuta Kira (Friend)

Yoshine Kiku (Friend)

Rara Kimine (Friend)

Chisai Akane (Often hang out together as senpai and kouhai)

(Idol)

AGE

14

GENRE

UNKNOWN

HOMEPAGE

WEIGHT

40 kg

CHARACTER ITEM

Blue Flute

CREATOR

HEIGHT

160 cm

VOICE SOURCE

UmeNeko28

PICTURE LIST

BIRTHDAY

6 February

LIKES

Cat, hamster, any chocolate cake, biscuit

MEDIA LIST

RELEASE DATE

30 June 2012

DISLIKES

ghost, crocodile, snake, ghost story

SIGNATURE SONG

N/A

PERSONALITY: Fue is a friendly and nice girl. She really loves any chocolate cake. She really like cat and hamster. She likes to friends with anyone, so everyone can be friends with her :)
Character Design
Hair color: Brown
Eye color: Light Green
Cloth : White-blue jacket with hoodie, blue shirt with wing draw
Skirt: A bit dark blue with glowing light blue
Feet: White socks and short dark gray boots
Headphone: dark gray headphone with glowing blue on the mic and white-blue on the outside headphone
Nationality: Indonesian - Japanese
Facts
- She really hope that she can be friends with everyone
- She's the creator's first UTAUloid
- Her voice is came from the creator's natural (normal) voice without any pitch or edit
- Her first name is "Hanekirei Miyuki" but since there's so many people named "Miyuki" so the creator's change it to "Fueyuki"
- Got 4th time re-design for her design
Voice Configuration
ACT 1:http://www.4shared.com/rar/IrYg7xO7ba/Hanekirei_Fueyuki_ACT_1.html
Fail when she sing the "chi", the "chi" is so asdfghjkl:">
Append: WIP
Usage Clause
Do not make her voice change / pitch her voicebank without the creator's permission
Do not change or steal her design / voicebank
If you make her sing and publish it please credit the creator!
Do not change any appearances that already be given out unless there is changes that have been made by the creator
Do not violate any rights or copyright policies using this character
Do not claim her as YOURS!
Please put the name of the UTAUloid if she is used in any of your works
Do not use her for anything illegal or offensive to others
Do not use her for commercial purposes unless you have obtained permission from the creator
Do not redistribute the voicebanks
Do not use the samples in the voicebanks for another UTAUloid's voicebanks
If you use her for role-play, please avoid roleplaying out of character
You may modify the oto.ini, but do not publicly distribute a modified oto.ini of the voicebanks without the creator's permission
Please don't edit this page without Ume's permission. Thank you.