HANZO YAMIGA


(Japanese: 闇歌半蔵 - Yamiga Hanzo)

ALIAS: Han - (Only called that by her close friends or relatives.)
NAME INTERPRETATION:
闇歌 (Yamiga; Song of darkness)

半蔵 (Hanzo; Half hidden)

TYPE: UTAU
MODEL: NONE
GENDER
Female (acts like a tomboy)
VOICE RANGE
D3~A4
RELATED CHARACTERS
Maria Fuwa (Cousin)

Mario Fuwa (Cousin, possibly has a crush on)

AGE
14
GENRE
Any
HOMEPAGE
776-UTAU
WEIGHT
SECRET
CHARACTER ITEM
Baseball bat
CREATOR
776-chan
HEIGHT
4'8" (142 cm)
VOICE SOURCE
776-chan
PICTURE LINK LIST
CONCEPT ART, PIAPRO, PIXIV, DEVIANT ART, GELBOORU, GOOGLE IMAGE, PHOTOBUCKET
BIRTHDAY
October 30, XXXX
LIKES
JRPGs, dank memes, sour candies, chess, Overwatch, Harambe, Pingu, MLG, Nintendo, being talkative, edginess, being messy
MEDIA LIST
NICO NICO DOUGA, YOUTUBE
RELEASE DATE
October 31, 2016
DISLIKES
Losing, John Cena, being called short, Donald Trump, Hillary Clinton, politics, anything related to the end of the world, being told what to do, girly girls, being told to shut up, being triggered, fashion, ideals, the color "pink", akidearest
SIGNATURE SONG
Mind Brand
PERSONALITY: An edgy tomboy by day and angsty memelord by night, Hanzo acts chillax and will call everyone she meets a "punk" (unless it's a close friend, she'll refer to as "fam").
Supplemental Information
Hair color: Brown
Eye color: Green
Nationality/Race: Possibly Japanese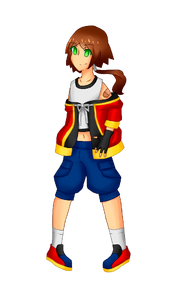 Voice Configuration
Hanzo's voicebank is no longer available for download.
Some details are based on existing information and usage experience. The details seen here may be subject to change without prior notice.
Ad blocker interference detected!
Wikia is a free-to-use site that makes money from advertising. We have a modified experience for viewers using ad blockers

Wikia is not accessible if you've made further modifications. Remove the custom ad blocker rule(s) and the page will load as expected.