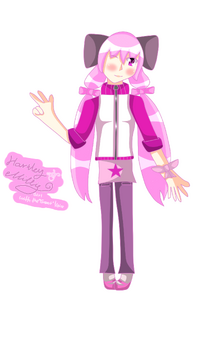 Information about her
Type: UTAULoid[?]
Name:Hartley Millis
Age:Maybe 17
Birthday:July 4
Nationality:British
Race:Human
Occupation:High school student
Related Characters
-Harland Millis [elder twins]
-Rosie Perrie [best friend, classmate]
-Minnie Lord [her secret friend]
-Joanne Clyde [very new friend]
Release Date:2015
Birthplace:Somewhere in Northern Ireland
Signature Song:keep waiting XD
Creator and Voice Sourcer:BowlingMillisIrish
Voicebank
All of her Japanese and other languages voicebanks
All of these will be release in 2016 or 2017
-Full CV reclists
-Romaji with Hiragana aliased
[Act 1]
-Deeper voice than Harland Millis
NOW RELEASE!!!
http://www.mediafire.com/download/8n3kaktfy9ke9nc/Hartley+Millis+CV+JPN+Act+1.rar
Will be available until May 30, 2016
[Act 2]
-Softer than the first act
[CV Special]
Every special voicebanks will be similar to Millis
-CV Lady
She will have a soft voice for a little bit, but not much
-CV Deep
Deep and cold voice, also deeper than Act 1
-CV Eternal
Will be a soprano voicebank,but not too much, because it will be dangerous for your ears
-CV Royal
The sweetest and softest voicebank
By the way, CV Royal for Millis will change into CV Majesty for Hartley
[VCV]
Will be her only VCV bank
Like Millis, I will give you flags for different voices
[CVVC English]
-Full reclist
-Sounds will be similar to Act 2
[CVVC Chinese]
-Her Chinese voicebank
Character Design
She has design like Millis, but her theme color is Pink, unlike Millis who has her theme color as Purple
Hair:Pink
Eyes:Dark Pink
Skin:White
Shirt:Light Pink with Pink heart in the shirt
Trousers:Dark Pink
Belt:Dark Grey
Socks:Pink
Shoes:Pink
Ribbon:Light Pink
Headphone:Gold with Pink mini microphone
Usage Clause
1.If you'll gonna use her VB,please should credit me BowlingMillisIrish
2.DON'T steal any of her VB!!!
3.Free to download [in every VB]
4.Don't claim that Hartley is yours
5.Don't steal Hartley's design to make your UTAULOID.Just design it by yourself :D
6.Shouldn't make any pitchbank to her
7.DON'T use her in R-18 art,because I hate it
8.DON'T steal and sell any Voicebank,a distributor is BowlingMillisIrish ONLY!!! :v :v
THANK YOU SO MUCH FOR FOLLOW THE RULES :D :D
ENJOY with every VB!!! :D :D :D
Ad blocker interference detected!
Wikia is a free-to-use site that makes money from advertising. We have a modified experience for viewers using ad blockers

Wikia is not accessible if you've made further modifications. Remove the custom ad blocker rule(s) and the page will load as expected.