Ad blocker interference detected!
Wikia is a free-to-use site that makes money from advertising. We have a modified experience for viewers using ad blockers

Wikia is not accessible if you've made further modifications. Remove the custom ad blocker rule(s) and the page will load as expected.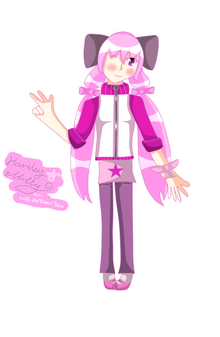 Information about her
Type: UTAULoid[?]
Name:Hartley Millis
Age:Maybe 17
Birthday:July 4
Nationality:British
Race:Human
Occupation:High school student
Related Characters
-Harland Millis [elder twins]
-Rosie Perrie [best friend, classmate]
-Minnie Lord [her secret friend]
-Joanne Clyde [very new friend]
Release Date:2015
Birthplace:Somewhere in Northern Ireland
Signature Song:keep waiting XD
Creator and Voice Sourcer:BowlingMillisIrish
Voicebank
All of her Japanese and other languages voicebanks
All of these will be release in 2016 or 2017
-Full CV reclists
-Romaji with Hiragana aliased
[Act 1]
-Deeper voice than Harland Millis
NOW RELEASE!!!
http://www.mediafire.com/download/8n3kaktfy9ke9nc/Hartley+Millis+CV+JPN+Act+1.rar
Will be available until May 30, 2016
[Act 2]
-Softer than the first act
[CV Special]
Every special voicebanks will be similar to Millis
-CV Lady
She will have a soft voice for a little bit, but not much
-CV Deep
Deep and cold voice, also deeper than Act 1
-CV Eternal
Will be a soprano voicebank,but not too much, because it will be dangerous for your ears
-CV Royal
The sweetest and softest voicebank
By the way, CV Royal for Millis will change into CV Majesty for Hartley
[VCV]
Will be her only VCV bank
Like Millis, I will give you flags for different voices
[CVVC English]
-Full reclist
-Sounds will be similar to Act 2
[CVVC Chinese]
-Her Chinese voicebank
Character Design
She has design like Millis, but her theme color is Pink, unlike Millis who has her theme color as Purple
Hair:Pink
Eyes:Dark Pink
Skin:White
Shirt:Light Pink with Pink heart in the shirt
Trousers:Dark Pink
Belt:Dark Grey
Socks:Pink
Shoes:Pink
Ribbon:Light Pink
Headphone:Gold with Pink mini microphone
Usage Clause
1.If you'll gonna use her VB,please should credit me BowlingMillisIrish
2.DON'T steal any of her VB!!!
3.Free to download [in every VB]
4.Don't claim that Hartley is yours
5.Don't steal Hartley's design to make your UTAULOID.Just design it by yourself :D
6.Shouldn't make any pitchbank to her
7.DON'T use her in R-18 art,because I hate it
8.DON'T steal and sell any Voicebank,a distributor is BowlingMillisIrish ONLY!!! :v :v
THANK YOU SO MUCH FOR FOLLOW THE RULES :D :D
ENJOY with every VB!!! :D :D :D