HARUKA SHIPPAI

(Japanese: 春香失敗 - はるかしぱい - Haruka Shippai)

NAME INTERPRETATION:

春香 (Haruka: far off, distant

失败 (Shippai: joke, miscarry, fail

TYPE: UTAUloid, VIT@loid, MAIKYAloid

MODEL: 05 - He is the 5th MAIKYAloid

GENDER
Male
VOICE RANGE
G3~D#5
RELATED CHARACTERS

Ken Shippai (Sister)

Hana Mimiza (Girlfriend)

Toki Imo (Crush)

Taiko Imo (Best Friend)

Yume Yuuki (Best Friend)

AGE
21
GENRE
Blues
HOMEPAGE
HOME
WEIGHT
132 lbs (59.87 kg)
CHARACTER ITEM
Hair Brush
CREATOR
Lasaillax
HEIGHT
6'4" ft (193.04 cm)
VOICE SOURCE
Lasaillax
PICTURE LINK LIST
BIRTHDAY
July 28, 1992
LIKES
Food, Books, Manga, Yaoi, Quotes, Puppies, and Shyness.
MEDIA LIST
RELEASE DATE
May 18, 2013
DISLIKES
Dolls, Flavored Water, Fonts, Loudness, and Math.
SIGNATURE SONG
n/a
PERSONALITY: Haruka tends me be very quiet and he rarely talks unless he is around someone he is greatly comfortable with them. Haruka is not good at striking up a conversation when it mostly comes to girls. He is also very calm but he can get irritated very easily. He only usually sings when Hana is with him because he has a very large self hatred for himself, which no one knows except for Hana.
Supplemental Information
Hair color: Navy blue
Headgear: Gray beanie with black vertical stripes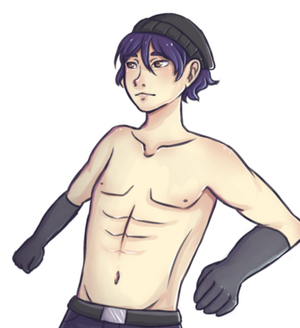 Eye color: Dark brown
Earphones: n/a
Dress/Outfit: A black T-Shirt with a blue shockwave with 
a light yellow heart overlapping it. Navy blue gloves on both hands with finger holes. A pair of baggy sweatpants with blue lining and a light yellow pair of shoes.
Nationality/Race: Japanese-American
Catchphrase: "The thing is I think so much and I know so much about people but I just don't say it because I'd feel like I would be getting in the way."
Voice Configuration
Haruka is the genderbend of Ken Shippai. Ken Shippai's voicebank can be downloaded on her wiki. His flags are g+9BRE0l100C0.
Usage Clause
This article is written and certified true and correct by the author of the character. The details seen here may be subject to change without prior notice.