Haruna Kawane

(Japanese: 川音 ハルナ - かわね はるな -Kawane Haruna)

NAME INTERPRETATION:

川音 (Kawane) - "river sound"; referring to how Haruna and her sister used to visit the river when they were young

ハルナ (Haruna) - written in kanji as 春菜, which means "spring vegetables"

GENDER
female
VOICE RANGE
G3 - F5
RELATED CHARACTERS

GOATLOID (same creator)

Natsuki Kawane (older sister)

AGE
15
GENRE
any
HOMEPAGE
N/A
WEIGHT
110 lbs
CHARACTER ITEM
blue notebook
CREATOR
Akarin
HEIGHT / MEASUREMENTS
5' 4" (163 cm)
VOICE SOURCE
Akarin 
PICTURE LINK LIST
Tumblr
BIRTHDAY
February 8
LIKES

food, anime girls with blue hair and/or pigtails (especially Miku Hatsune), singing, Pepsi and other Pepsi products

MEDIA LIST
YouTube
RELEASE DATE
N/A
DISLIKES

people being rude to her sister

SIGNATURE SONGS
N/A
PERSONALITY: 

Haruna looks up to Miku Hatsune and wants to be just like her. She hopes one day she can be as famous as her, and sometimes mispronounces vowels and consonants to sound more like her. Haruna is a generally cheerful person who tries to always remain positive. She likes to mix flavors of Mountain Dew and Gatorade and her room is littered with different flavors of Mountain Dew.
Supplemental Information
Hair Color: light blue, worn in pigtails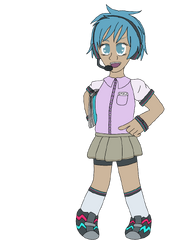 Headgear: a pair of gray-black headphones with a microphone on the right side, and bright cyan and magenta lines on the ears
Eye Color: blue-gray
Dress/Outfit: a light purple buttoned shirt and white sleeves going halfway to her elbow. She has a pocket on her left side that says "UTAU" on it. She wears wristbands that match her headphones and end of her sleeves. Her shirt is tucked in to a beige skirt, and she wears shorts under it. Her white socks reach her knees and the ends match the ends of her sleeves. She wears black sneeakers with bright cyan and magenta zigzags, matching her headphones.
Nationality/Race: Japanese-American
Voice Configuration
Haruna's ACT 1 voicebank contains CV Japanese and support for English. It is romaji encoded with hiragana aliases. When her voicebank is ready to download it will come with a pronunciation guide (guide.txt) on some of the English vowels and consonants.
Rules
No sexual content or nudity.
No pitchloids.
You can edit the oto.ini, but don't redistribute it.
You can edit sound in the voicebank but don't redistribute it.
Noncommercial use only.
Do not pair Haruna with her sister.
Ad blocker interference detected!
Wikia is a free-to-use site that makes money from advertising. We have a modified experience for viewers using ad blockers

Wikia is not accessible if you've made further modifications. Remove the custom ad blocker rule(s) and the page will load as expected.