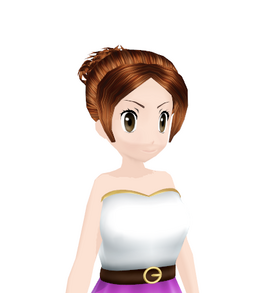 Hazuki Ai

Gender

Female

Age

15

Height

5 Feet

Weight

115 Pounds

Birthday

July 5th

Release Date

January 1st, 2015

Creator

Karla DiNicolantonio

Voice Bank Recorder

Karla DiNicolantonio
Info

Character Description-

Brown, Curly hair put in a bun. Wears cute outfits. Dosen't regularly put on makeup, but when she does, it's very little.

Favorite Color-

Aquamarine

Personality-

Caring, Fancy, Humorous, Confident, Kind and Imaginative.

Related Utau-

Omigi Ai

Relation to Utau-

Significant Others

Character Item-

Lily

Nationality-

American
Permission

Create Songs with Hazuki-

As of now, no soundbank will be released- Sorry!

Hazuki Model-

Hazuki's Model will not be available for download- but may be in the future

Fanloids of Hazuki-

Anything related to Hazuki Ai without direct permission from the Creator will be flagged!
Ad blocker interference detected!
Wikia is a free-to-use site that makes money from advertising. We have a modified experience for viewers using ad blockers

Wikia is not accessible if you've made further modifications. Remove the custom ad blocker rule(s) and the page will load as expected.