Hen Ka


(Japanese: かへん - Ka Hen)

NAME INTERPRETATION:
A Japanese Name.
TYPE: UTAUloid
MODEL: MUG-01
GENDER
Neutrois Ogre
VOICE RANGE
C3~A4
RELATED CHARACTERS

No one is enough fab to be related to this fab prince.

AGE

20

GENRE
Techno, Metal
HOMEPAGE
UNKOWN
WEIGHT
165 lbs

(74.8 kg)

CHARACTER ITEM
Laptop
CREATOR
HEIGHT / MEASUREMENTS
'5'8 ft

(173 cm)

VOICE SOURCE
DeadMooseMarch (PoundToundHound)
PICTURE LINK LIST
N/A
BIRTHDAY
4th January, 1994
LIKES

Little Kids and chips.

MEDIA LIST

N/A

RELEASE DATE
July 16th, 2014
DISLIKES

Wannabe queers (Bitch pls~)

SIGNATURE SONG
COMING SOON...
PERSONALITY: Hen is just absolutely fabulous in his book atleast, he is seen as a weirder UTAU and an outcast, he is overall nice to people unless they are mean towards him. He can sometimes be a loner depends on what the people surronding him is doing, if they are doing anything he likes he will just join in the fun. He can be really crazy sometimes and at most cases can cause himself to get hurt, but he doesn't give a flying fuck if anyone else gets hurt, no no, he is a ogre after all.
Supplemental Information
Hair: Turquoise at the top of his hair mixed with a blood red color at the tips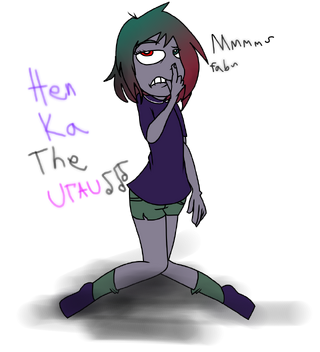 Headgear:
None
Eye colour: One eye red and the other green
Earphones: None, uses microphone.
Dress: A purple shirt with sleeves and shorts..
Nationality/Race: Orge.
Favorite phrase: Mmmm~ Fab~
Voice Configuration
Hen only has one voicebank, the voicebank is written in Romaji only but if requested enough a Kanji will most likely appear!
Hen's voicebank is a crispy male voice and some notes can sound really weird, he makes his Rs really heardable due to him having a big tounge.
Songs/Covers
NONE YET
Downloads
Romaji Voicebank~ [LINK]
Ad blocker interference detected!
Wikia is a free-to-use site that makes money from advertising. We have a modified experience for viewers using ad blockers

Wikia is not accessible if you've made further modifications. Remove the custom ad blocker rule(s) and the page will load as expected.