Meaning of name:
Daniel [gift from God], Hikaru [light], Akimoto [autumn]

His full name is Daniel Hikaru Akimoto. Hikaru is a robot programmed by Hikari. His physical and mental age is that of a 17 year old, but he is actually only 4 years old. He was created on Hikari's 9th birthday. Her first and only command input was to 'protect her like a brother would as long as he still functions'. He's pretty much the opposite of Hikari, but they do share some similarities, like the love for pranking and sweets and the hate for veggies and proper meals. He likes lollipops the best because it was the first food Hikari had ever given him. He doesn't need to recharge his battery as he is programmed to run on sugar. He is also very kind and affectionate. He always helps other people and babies his 'sister' even though he is the baby. He is also intelligent, being programmed to have an IQ of 296. He is constantly with Hikari, as he has a fear of being abandoned again. He knows basic tae-kwon-do and ju-do, results of constant lectures by Hikari on the subject. He is also taught on humans' weak points on the body by her.

STORY OF ORIGINATION
He was actually founded by Hikari, not built. She found him in an abandoned house, and as curiosity gets the better of her, she turned him on and discovers that he still functions. She promptly named him Daniel, as she regards that God has sent him to her as a birthday gift. She changed some of the components in him and reprogrammed him. He was originally a mannequin that is programmed to be able to walk, but she made it so that he has Artificial Intelligence, can eat, has the ability of speech, has functioning eyes and other abilities. IQ level of 296 was the most she can program him to have. He looks so lifelike that she sometimes actually forgot he's a robot. Since all of his insides before were actually junk and the tech stuffs don't take a lot of room, Hikari also uses him as a walking food container.She randomly pulls random parts of his body and take sweets from it.
GENDER
MALE
GENRE
NONE
RELATED CHARACTERS

HIKARI AKIMOTO

http://utau.wikia.com/wiki/Hikari_Akimoto [FOSTER SISTER, CREATED BY]

AGE
PHYSICAL AND MENTAL: 17, REAL: 4
NICKNAMES
HIKA [OTHERS], RURI [HIKARI]
VOICE PROVIDER
firetransparent
WEIGHT
55 KG
VOICE RANGE
UNKNOWN
CREATOR
firetransparent
HEIGHT
174 CM
CHARACTER ITEM
LOLIPOP
DISLIKES
BEING UNASSEMBLED, MESSES, DIRTINESS, LEFT ALONE
RELEASE DATE
10 NOVEMBER 2011
MEDIA LIST
YOUTUBE
LANGUAGE SUPPORTED
ENGLISH, BAHASA MELAYU, JAPANESE AND GERMAN
BIRTHDAY
10TH NOVEMBER
LIKES
LOLLIPOPS,SWEETS, HIS SISTER

VOICES:

1656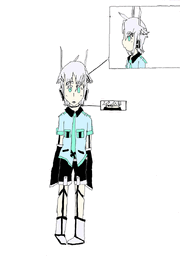 HOMEPAGE: http://cookie-mobster.tumblr.com/
Ad blocker interference detected!
Wikia is a free-to-use site that makes money from advertising. We have a modified experience for viewers using ad blockers

Wikia is not accessible if you've made further modifications. Remove the custom ad blocker rule(s) and the page will load as expected.