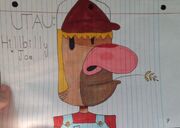 This is going to be my newest UTAU creation.
Basic Information
Name: Joseph Stanford Cranston (No one knows this anymore except for him; people have called him "Hillbilly Joe" for so long that they assume his actual name is Joseph. But they really aren't sure.)
Age: 25
Birthday: April 29,1989
Gender: Male
Likes: fried chicken, playing the acoustic guitar, horseback riding, and bullriding
Dislikes: teenagers making a ton of uncontrolled noise (especially at 3:00 AM), fancy parties, stiff clothing, and modernism. Joe HATES modernism.
Character Item: rifle
Catchphrase: "I enjoy singin' but I wouldn't give up farmin' for the world."
Voice Range: Any
Genre: Any
Release Song: I want to do "Shikabane no Odori" but it may have to be something else.
VOICEBANK OWNED BY MECHAMANGAMONKEY DO NOT DISTRIBUTE WITHOUT CONSENT FROM CREATOR
OTOed: No
TYPOS
I SHOULD be okay on typos since I made this one on a mobile device. DO NOT TAKE IT UPON YOURSELF TO EDIT TYPOS WITHOUT CONSENT FROM MECHAMANGAMONKEY. Bring them to my attention in "Talk" please.