About her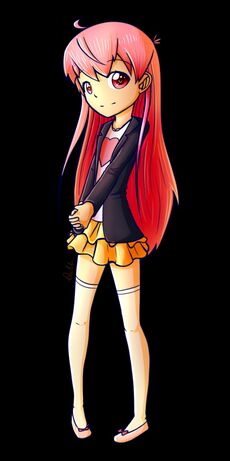 Name
: Himeji
Name meaning: Princess
Age: 13
Creator: Himeji Flame
Related Characters:
Tori Kanpane ( Older sister )
Personality
She is a kind and caring girl. She loves nice and cool guys. She cares about her sister Tori more than anything.
Supplemental Information
Eye color: Hot pink
Outfit: A pale pink T-shirt with a heart for the design. A pink heart necklace under her shirt . On top is a navy blue coat (jacket). On the bottom is stockings reaching to the knees and pink ballerina shoes with ribbons on top.
Nationality/Race: Japanese
Favorite phrase: I Favorite Phrase: I LOVE YOU NEE-CHAN !! <3
Voicebank
CV: [1]
VCV: -
Voice Configuration
Himeji 's voice is encoded in romaji but can also read hiragana. For the rendering options it is better to use Y0B0C99g-5. She has a normal tone so there is no need for flags.
Ad blocker interference detected!
Wikia is a free-to-use site that makes money from advertising. We have a modified experience for viewers using ad blockers

Wikia is not accessible if you've made further modifications. Remove the custom ad blocker rule(s) and the page will load as expected.