Hira Sakebine

Kata Sakebine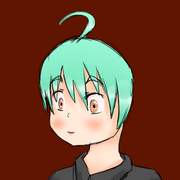 (Japanese: 叫び音カタ
叫び音ひら)
NAME INTERPRETATION:
カタ (Kata, because Kata's Voicebank is in Katakana)

ひら (Hira, because Hira's Voicebank is in Hiragana)
叫び音 (Crying Sound)

TYPE: NONE
MODEL: NONE
GENDER

Kata: Male

Hira: Female

VOICE RANGE
Unknown So Far
RELATED CHARACTERS

N/A

AGE

14/14

GENRE
Unknown So far
HOMEPAGE
NONE
WEIGHT
117 lbs
CHARACTER ITEM

Kata: Pencil

Hira: Knife

CREATOR
Honokumakun
HEIGHT / MEASUREMENTS

Kata: 4'9ft (145cm)

Hira: 5'3ft (161cm)

VOICE SOURCE

Honokumakun

(His heavily edited voice)

PICTURE LINK LIST
N/A
BIRTHDAY
June 21st 1999
LIKES

Kata: Everything

Hira: Nothing

MEDIA LIST
RELEASE DATE
N/A
DISLIKES

Kata: Nothing

Hira: Everything

SIGNATURE SONG
N/A

PERSONALITY: Kata: Likes everything, is in tune with nauture, kind and helps everyone.

Hira: Hates everything, lone wolf, wants world to dissapear.
Information
Appearance: Green/Blue Hair with spike on top (both).
Hair color: Green/Blue
Eye color: Kata: Orange
Hira: Unknown
Clothes: Kata: Black Shirt with white Bowtie.
Hira: Black Shirt with white Tie.
Nationality: Japanese
Voice: Kata: Male
Hira: Female
Demo
There is a demo of it avaliable to listen to. So far only the vowels have been recorded: hira-kata-sakebine-demo
Ad blocker interference detected!
Wikia is a free-to-use site that makes money from advertising. We have a modified experience for viewers using ad blockers

Wikia is not accessible if you've made further modifications. Remove the custom ad blocker rule(s) and the page will load as expected.