Ad blocker interference detected!
Wikia is a free-to-use site that makes money from advertising. We have a modified experience for viewers using ad blockers

Wikia is not accessible if you've made further modifications. Remove the custom ad blocker rule(s) and the page will load as expected.



HIROSAKA ISABERA




(Japanese: 広坂イサベラ  ・ ひろさかいさべら - Hirosaka Isabera)

NAME INTERPRETATION:

イサベラ (Isabera) - Isabella

TYPE: UTAUloid

MODEL: N/A

GENDER
Female
VOICE RANGE
N/A
RELATED CHARACTERS

N/A

AGE
14
GENRE
N/A
WEBSITE
None
WEIGHT
84lbs
CHARACTER ITEM
Nintendo Dsi (Pink)
CREATOR
Phinabellaphan
HEIGHT
5' 3"
VOICE SOURCE

Valerie

PICTURE LINK LIST
deviantArt
BIRTHDAY
August 21, 1998
LIKES
Candy,Drawing,being alone, sleeping,singing,playing piano,Nutella, Learning new languages
MEDIA LIST
RELEASE DATE
N/A
DISLIKES
Lemonade,cleaning,work, dancing,mainstream media,"SWAG"
SIGNATURE SONG
N/A
PERSONALITY: Isabera is a very shy UTAUloid. She's not very good at talking to others. Just don't get too close. She's very clingy. Regardless, she is very sweet as long as you don't get on her bad side. She WILL attack you. 
Supplemental Information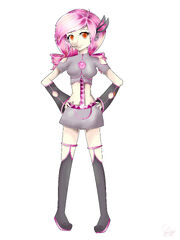 Hair color: Light Pink w/ Yellow Highlights
Headgear: Mechanical Bow and Circular Headphone w/ Heart Microphone
Eye color: Orange
Number: ??  <----- tatooed on shoulder
Dress/outfit: Gray top with heart beat moniter. Skirt with belt that attaches to her top. Regular knee high Boots and Arm Sleeves.
Nationality/Race: Japanese
Voice Configuration
Voicebanks Release date: N/A
Songlist
NO SONGS YET~
Facts/Trivia
The colors of her design is based off of the show Phineas and Ferb. As well as her name (Isabella)
Her hair design and signature bow is base off of a Phineas and ferb OC i created about a year ago.(pictures in early prototypes)
Early Prototypes (Valeroid)
Technically My Phineas and ferb OC as a vocloid/utau. The Early Stages of isabera
(Im Sorry to burn your eyes. These are old)
Old Failure 1 Old Failure 2 Actually not kinda bad but stilll kinda failure 3 Failure 4 Failure 5 (You can see it slowly turning into her final stage)