Hisakawa Mi

NAME INTERPRETATION:

Hisakawa = marketplace by the river

Mi = beautiful

GENDER
Female
VOICE RANGE
Unknown
RELATED CHARACTERS

Trace- Friend

AGE
19
GENRE
Any
HOMEPAGE
WEIGHT
163 lbs (

73

 kg)
CHARACTER ITEM
Gas Mask
CREATOR
czarina
HEIGHT
 5'7 (

170

 cm)
VOICE SOURCE
czarina
PICTURE LINK 
BIRTHDAY
December 29
LIKES
sleep, flowers, darkness, pomegranets
MEDIA
RELEASE DATE
December,31,2013
DISLIKES
sunlight, yams, large crowds, sickness
SIGNATURE SONG
NONE
PERSONALITY: She is sarcastic and generally apathetic. Although usually mean, she will occasionally start acting very motherly to some people.

Download~
ACT 1 CV

http://www.mediafire.com/download/9npow9dc3c5qdd8/Hisakawa+Mi.zip
Has a light, airy yet loud sound.
ACT 2 CV
https://www.mediafire.com/?kckawd835b6r9or
Has a bit harsher of a sound than act one. Containes more and better otoing. 
About Usage:
Please use her for many songs! If you need to edit the voicebank a little for a song, feel free. Just do not replace any sounds. She does not sound too good on long notes with vibrato. Do not drastically change the image of Hisakawa Mi. You can change her outfit or style to better fit a song, but use good judgement to try and keep her looking about the same.
Also, if you like using flags, try Y5b8. I think it sounds nice~
Supplemental Information:
Hair color: green
Headgear: various green and grey gas masks
Headphones: earbuds that plug into the arm
Eye color: green
Race: mixed
Outfit: She wears grey pants with blue circles on the knees. She wears a cropped black and green shirt with fishnet to up the neck. She also wears black sleeves with green arrows.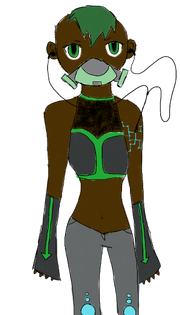 Ad blocker interference detected!
Wikia is a free-to-use site that makes money from advertising. We have a modified experience for viewers using ad blockers

Wikia is not accessible if you've made further modifications. Remove the custom ad blocker rule(s) and the page will load as expected.