HITOMI FUJINE


(Japanese: 

フジネ ヒトミ 

- 

ふじね ひとみ

 - 

Fujine Hitomi

)

NAME INTERPRETATION:


フジネ

 (Fujine; Fuji Islands sound)
TYPE: UTAUloids / FRAloids
MODEL: FRA15
GENDER
Female
VOICE RANGE
F#3-C3
RELATED CHARACTERS

Mio Yoshine (Cousin)

Sakura Makkane (Friend)

Monty Futarine (Child)

AGE
16
GENRE
Electro / Rock
HOMEPAGE
FRAloid Hitomi
WEIGHT
58kg
CHARACTER ITEM
A Fan
CREATOR
Kevinp9568
HEIGHT
168cm
VOICE SOURCE
Hito_F
PICTURE LINK LIST
Hitomi's Pictures
BIRTHDAY
October 24th
LIKES
Karate, Video Gamers, sleeping
MEDIA LIST
Youtube
RELEASE DATE
October 24, 2010
DISLIKES
Sport, being bored
SIGNATURE SONG
Beats of Silence
PERSONALITY: Hitomi is a Japanese karateka 
Supplemental Information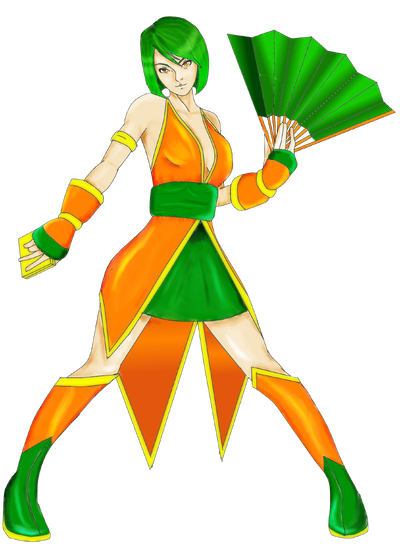 Hair color: Green
Head gear: None
Eye color: Yellow/Orange
Earphones: None
Nationality/Race: French
Band : She is part of the FRAloids.
Voice Configuration
TECHNICAL INFORMATION
Hitomi Fujine ACT1 (Japanese)
ARCHIVE FILENAME
Hitomi_JPN
ARCHIVE FILESIZE
16,4
DATE RELEASED

June 1st, 2014

(Updated Version)

NO. OF VOICE PHONEMES
127
TOTAL UNCOMPRESSED SIZE
17,2
PHONEME ENCODING
Romaji (Hiragana aliases)
AVERAGE FREQUENCY
B3
FRQ FILE PRESENCE
NO
LANGUAGES SUPPORTED
Japanese
UNOFFICIAL SUPPORTED LANGUAGES
none
OTO.INI PRESENCE
YES
TUNED OTO.INI
YES
LANGUAGE PARSED VIA OTO.INI
Japanese
VOICEBANK AUTHOR
Kevinp9568
TECHNICAL DIRECTOR
Kevinp9568
RECORDING SOFTWARE USED
Audacity
DOWNLOAD LINK: ACT1
SPECIAL NOTES:
Usage Clause
The author gives full permission to use Hitomi's images, voice and personality in any kind of works as desired by the one depicting it, as long as it follows UTAU rules of usage, and proper credit is given.
 This article is written and certified true and correct by the author of the character. The details seen here may be subject to change without prior notice.
Ad blocker interference detected!
Wikia is a free-to-use site that makes money from advertising. We have a modified experience for viewers using ad blockers

Wikia is not accessible if you've made further modifications. Remove the custom ad blocker rule(s) and the page will load as expected.