Design Information
First Design (Version 1.0)
In his first design, Irial shown as a cheerful person, so different from his current appearance. He has shorter hair and blue eyes. His personality is also similar with Kagamine Len.
In 2015, creator was planing to made "Dare Demo ii Kara Tsuki Aitai" (誰でもいいから付き合いたい) MV cover, but his voicebank didn't finish yet. So, it was just a plan in the end. (But fortunately, in 2016 the music cover of it was done using version 1.1)
A music cover of version 1.0 is
"Torinoko City" (トリノコシティ)
, which is also his first testing.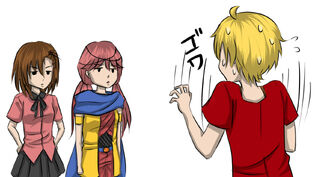 Second Design (Version 1.1 & 1.2)
The second design was created after his VB was 50% done. After trying to made many UTAU cover, the creator realized that Irial wasn't suit for cheerful/happy song because of his flat and gloomy voice. But he's good at shouting even though it's not as powerful as it should be. His cover of
Umigatari (うみがたり)
and a short version of
Leia
were like a turning point for his genre of song.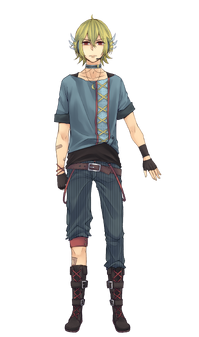 Appearance
Skin tone : Fair
Hair : Short blonde
Eyes : Red, demon iris like
Features : Choker, fingerless gloves, glass-wings headphone, bandages on the arm and leg
Fashion style : Rock or casual street style, usually using red-black-blue-yellow combination
More detail can be seen here
Voice Configuration
He only supports Japanese. His CV voicebank is written in hiragana and romaji, and only have C4 set. The voicebank (version 1.2) can be downloaded here. To bring out IRINA's voice, user just need to put g-15 on the flag.
Trivia
In the beginning, Irial was 13 years old. But after fixing the voicebank, he sounds more mature a bit, so creator changed his age into 15.
Irial's gloomy name was made from the start even though his first appearance and personality is so contrast from current design. But in the end it fits him.
Irina was made because of "Himitsu ~Kuro no Chikai~" (秘蜜~黒の誓い~). In this song, Rin (angel), who was rejected by Miku, change her appearance to be Len (human) and reapproach Miku. So, creator thought rather than using another utauloid, it would be more suitable to using 'another' Irial.
In case he should singing something out of his range, It's better if he sing something in higher note than lower note.
Featured Cover Songs