Ad blocker interference detected!
Wikia is a free-to-use site that makes money from advertising. We have a modified experience for viewers using ad blockers

Wikia is not accessible if you've made further modifications. Remove the custom ad blocker rule(s) and the page will load as expected.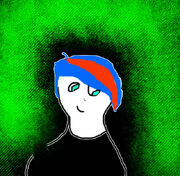 Ichigo 
クロサキ 
english
He is calm is never raise your voice
He new so still has no music
He will do a conver kagerou music days
Caractericticas
He has blue hair with a red streak
His eyes are green Crystal
Your shirt is green lemon
your pants can be of any type jeans etc.
Trivia
1.he is one of two unique vocaloid with mecha