Ichigo Akane
ICHIGO AKANE

(Japanese: 赤音イチゴ-あかねいちご - Akane Ichigo)
Supplemental InformationEdit
Hair color
: Scarlet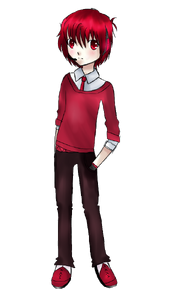 Headgear: n/a Eye color: Deep Red Earphones: Black headset with red illumination Outfit: /
Nationality:  Japanese
Voice ConfigurationEdit
Ichigo is a Romaji-Voicebank.
TECHNICAL INFORMATION

MIGINE AOI
ARCHIVE FILENAME
Ichigo Akane.zip
ARCHIVE FILESIZE
UNKNOWN
DATE RELEASED
July 12, 2013
NO. OF VOICE PHONEMES
UNKNOWN
TOTAL UNCOMPRESSED SIZE
UNKNOWN
PHONEME ENCODING
ROMAJI
AVERAGE FREQUENCY
UNKNOWN
FRQ FILE PRESENCE
YES
LANGUAGES SUPPORTED
JAPANESE
UNOFFICIAL SUPPORTED LANGUAGES
UNKNOWN
OTO.INI PRESENCE
YES
TUNED OTO.INI
YES
LANGUAGE PARSED VIA OTO.INI
JAPANESE
VOICEBANK AUTHOR
ANNACHAN99
TECHNICAL DIRECTOR
ANNACHAN99
RECORDING SOFTWARE USED
AUDACITY
His Voicebank is not downloadable yet. It will be for download in a few days.
Ad blocker interference detected!
Wikia is a free-to-use site that makes money from advertising. We have a modified experience for viewers using ad blockers

Wikia is not accessible if you've made further modifications. Remove the custom ad blocker rule(s) and the page will load as expected.