Ad blocker interference detected!
Wikia is a free-to-use site that makes money from advertising. We have a modified experience for viewers using ad blockers

Wikia is not accessible if you've made further modifications. Remove the custom ad blocker rule(s) and the page will load as expected.
 

IIKI-CHAN


(Japanese: イイキちゃん - いいきちゃん - Iiki-chan)

Iiki-chan was formerly known as "Iiki Koe". Due to the huge amount of utau voicebanks with "Koe" surname, owner renamed this character.

TYPE: UTAULOID.
GENDER
Female
VOICE RANGE
C4-F5
RELATED CHARACTERS
Stella Hoshine (mentor)
Kiki Okashine (adoptive sister)
Alternative Voice (same developer/supposedly elder sister)
AGE
12
GENRE
N/A
HOMEPAGE
Alto and Iiki-chan
WEIGHT
28 kg
CHARACTER ITEM
Baseball bat
CREATOR
Catlione
HEIGHT
130 cm

VOICE SOURCE
Catlione
PICTURE LINK LIST
CONCEPT ART, BOX ART,PIAPRO, PIXIV, DEVIANT ART
BIRTHDAY
May 6
LIKES
Tangerines, peaches, karaoke, cooking shows
MEDIA LIST
YOUTUBE
RELEASE DATE
06.05.2010
DISLIKES
Fish, rain
VOICE SAMPLE

PERSONALITY: Iiki is very hyper active, she is way too responsible when it comes to help anyone, always glad to help, cheerful and overly positive. Iiki adores people who are higher than she is, because they can give her a piggyback ride. Normal children often bully Iiki because of her skintone, so she usually gets into fights. She has a strong immune system, so it is really hard for her to get sick. She loves to watch cooking shows, can remember perfectly any recipe, so she is a great cook. Besides cooking shows she likes to watch news mostly about pop-culture
Supplemental Information
- Iiki-chan's design is inspired by ganguro style, where young people dye their hair blond
and tan skin. Pink colours are common in this style as well.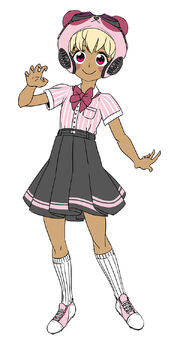 - Her outfit  is a mix of school and baseball uniform.
- Her helmet resembels a panda and has headphones inside and loudspeakers outside.
- Her pink cheeks are a make up.
- She has a short bob haircut, which can be seen in her reference sheet.
Her current design is called "Peach Panda".
Voice Configuration
- Iiki-chan is designed for Japanese language only, but she also comes with a little set of english syllabes, which can be found in "english" folder.
- She got a high nasal voice, thus suffer from Russian accent.
- Her voicebank is 1 pitch vcv recorded on G4.
- She has a decent sound quality, her voicebank was recorded with AKG Perception 120, Alesis MultiMix4.
You can download her voicebank from her homepage.
This article is written and certified true and correct by the author of the character. Please don't change or edit information you see on this page.